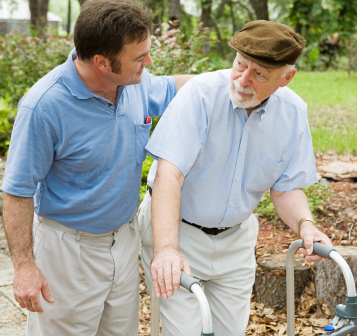 By Cassandra Oshinnaiye, Manager, Long-term Care Options, AARP Education & Outreach
According to the Pew Research Center, approximately 20 million Americans (one out of eight baby boomers) are juggling taking care of an older parent while raising or supporting a child. In Alabama some 850,000-plus caregivers make tremendous sacrifices at home and in their careers to care for a loved one. Although the role of caregiver has many rewards, it can often be stressful. In a 2009 study, The National Alliance for Caregiving and AARP found that the average family member caring for an older relative spent almost 20 hours a week helping with such things as meal preparation, transportation and recordkeeping. Despite the challenges, most family caregivers want to support their older loved ones and find a balance with work and family life that is both fulfilling and productive.

If you're struggling to balance it all, here are seven tips to help:



Ease up on your expectations. This isn't easy. Recognize you are human and you are doing the best you can. Take time to breathe.

Make a plan. Most families don't think about how they will manage caring for older parents until a crisis occurs. Start the conversation early. Be sure you know how they want their medical care and finances managed if they are unable to manage them on their own. Review their important documents with them. Use AARP's free Prepare to Care booklet as your guide at www.aarp.org/preparetocare.

Include your children. From keeping grandparents company to mowing the lawn, kids of all ages can provide emotional or practical support if the situation is right. They will also learn important lessons in patience and what it means to be a family.

Seek help. Don't wait for people to offer help and don't assume they know what type of help to offer. Reach out to your network of family members and friends and let them know you could use a hand with some specific tasks. Consider using an online electronic organizer such as www.aarp.org/manystrong or www.lotsahelpinghands.com.

Know your options. There are professionals and community services that provide caregivers with information, resources and respite (a break from caring). You can gain valuable information to help both you and your loved one at www.aarp.org/caregiving.

Check out workplace support. Find out if your workplace offers assistance to working caregivers. Ask about company policies on flexible work schedules and Family Medical Leave.

Prioritize your own health and well being. Tend to your own needs for exercise, sleep and healthy eating. Find ways to reduce the stress—whether it's taking in a movie, walking with a friend or taking a long bath. Consider joining a support group or finding someone that you can talk with about your experiences.
Life is a balancing act. Having the right information and support from others will help you find a little more equilibrium. Learn more about what you can do to secure your future at www.aarp.org/decide.

###

Cassandra D. Oshinnaiye is Manager of AARP's Decide.Create.Share SM Campaign. She leads the Association's educational and outreach efforts related to increasing awareness among women about long term care planning which encourages making decisions now that will positively impact one's lifestyle in the future.

(Photo courtesy of jseattle/Flickr)