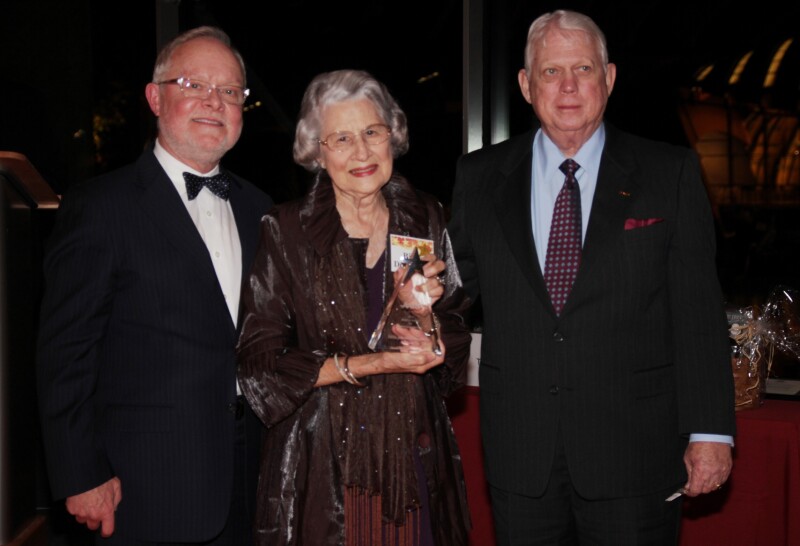 AARP Arkansas recognized volunteer leaders at the 2012 Andrus Award and Volunteer Appreciation Gala, held at the Crystal Bridges Museum of Modern American Art in Bentonville.
See Also: Award Named for AARP Founder
Approximately 130 volunteers and guests gathered at Crystal Bridges to recognize the 2012 Andrus Award recipient, the Distinguished Service Award winner, and seven nominees.
Participants in the celebration included Harroll "Hop" Backus, AARP Executive Vice President, States & Communities; Jim Clemmons, South Central Regional Volunteer Director; Mary Dillard, AARP National Policy Council member and Immediate Past State President of AARP Arkansas; and AARP Arkansas State President Sherry Walker. Volunteers and guests enjoyed self-guided tours of Crystal Bridges' expansive collection and exhibits before the gala and during dinner were treated to live music from the Jack Mitchell Big Band.
Billie Jean Dougherty of Ward received the 2012 Andrus State Award for Community Service. Billie joined AARP as a volunteer in 1995 and served as Coordinator of the Capitol City Task Force for many years, managing advocacy volunteers prior to the opening of the state office. Dougherty received AARP Arkansas' 2011 Distinguished Service Award and was among the 2011 inductees into the Senior Arkansans Hall of Fame.
"Billie Dougherty is one of our most long-serving, dedicated and active volunteer leaders," said Maria Reynolds-Diaz, State Director of AARP Arkansas. "Well-versed on the issues and an excellent spokesperson, Billie is a constant presence at the state Capitol in Little Rock during legislative sessions and has been to Washington, D.C., to advocate on federal issues."
The Andrus Award is AARP's most prestigious and visible volunteer award for community service. The award recognizes outstanding individuals who made their communities better in ways that are consistent with AARP's mission, vision and commitment to volunteer service, and who inspire others to volunteer.
AARP's commitment to volunteer service can be traced back to the life and vision of founder Dr. Ethel Percy Andrus. The Andrus Award winner is nominated by his or her peers and the award recipient is chosen by a special selection committee consisting of AARP Arkansas volunteer leaders.
Leroy Williams of Helena-West Helena received the 2012Distinguished Service Award. Williams is Co-Leader of AARP Arkansas' Delta Hub and also is an active member of the Arkansas Retired Teachers Association. Williams also has served as a member of the Silver Haired Legislature, Vice President of the Congress of Christian Education and Vice President of the Lee, Monroe, Desha and Phillips Counties District Association.
"Leroy gives untiring service to his community, particularly to residents who are older and handicapped," Reynolds-Diaz said. "He has been instrumental in bringing in new members to his local AARP chapter and is truly committed and dedicated to the mission of serving others."
During the event, all nominees for the 2012 Andrus Award were acknowledged.
Nominees included:

Charles Abanathy of Paragould
Lee Campbell of Horseshoe Bend
Loretta Echols of Jonesboro
Al Janssen of Little Rock
Bill Keller of Bella Vista
Ronald G. Newport of Jacksonville
Mary E. Purselley of Harrison