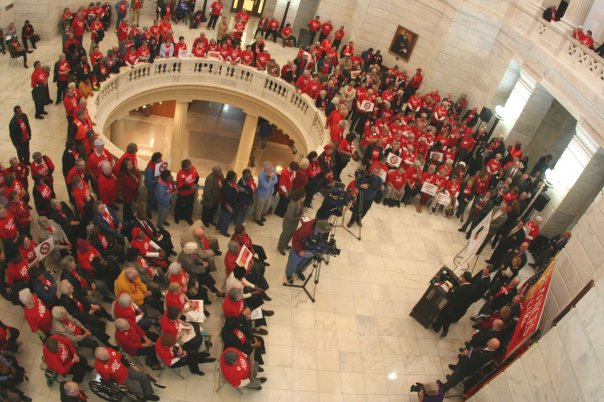 The 89th Arkansas General Assembly, which convenes in January 2013, will consider several issues of vital importance to Arkansans 50 plus and their loved ones. AARP is recruiting legislative volunteers and asking members to join an advocacy list to track current legislation.

The state's Medicaid program faces a budget shortfall of hundreds of millions of dollars and significant potential budget cuts already are on the table. AARP aims to preserve services that help people live at home as they age and to expand health care coverage for the uninsured.

See Also: Fiscal Cliff – What's at Stake for Medicare and Medicaid?

The legislative session convenes Jan. 14 and several key issues of importance to AARP Arkansas and our members are expected to be considered, including:

Preventing large cuts to Medicaid nursing home care and home and community-based services. The Medicaid shortfall is estimated at $138 million in fiscal 2014 (which begins July 1, 2013) and $75 million the following year. But because state Medicaid dollars are matched $3 to $1 by the federal government, the total loss in Medicaid funding would be $460 million the first year and $250 million the second year. Proposed cuts to plug the shortfall include cutting "Level 3" nursing care for those not wholly dependent on help for activities of daily living, affecting up to 15,000 senior citizens and disabled people. The cuts also would freeze participation in home and community based waivers that enable seniors and others to stay in their homes rather than go into nursing homes.
Expanding Medicaid. Such an expansion would benefit Arkansans in multiple ways. First, the expansion is 100 percent federally funded the first three years, and 90 percent in subsequent years, so will help reduce the Medicaid shortfall by $159 million in 2014-15, and correspondingly reduce the need for major cuts. Strengthening Medicaid will not only give Arkansans more health coverage options, it will help some of the state's fiscal problems by making sure rural hospitals stay in business, reducing the cost of uncompensated medical care and generating tax dollars that will stimulate the economy.
Fully implementing the state Health Benefits Exchange. This will offer affordable health insurance coverage to those uninsured Arkansans whose income is too high to qualify for Medicaid. The Exchange will be a marketplace where Arkansans can go to enroll in private insurance plans and receive subsidies, based on their income, to make coverage more affordable. Almost half a million Arkansans are expected to enroll in health plans through the Exchange or in the expanded Medicaid program in 2014.
Additional details on the importance of Medicaid to Arkansas are available online. To join AARP Arkansas' advocacy list or to become an advocacy volunteer, visit AARP AR web site, email araarp@aarp.org or call 1-866-554-5379 toll free.

To get the latest update on these legislative issues and others important to Arkansans 50 plus, "like" us on Facebook, follow us on Twitter and visit the AARP AR website.