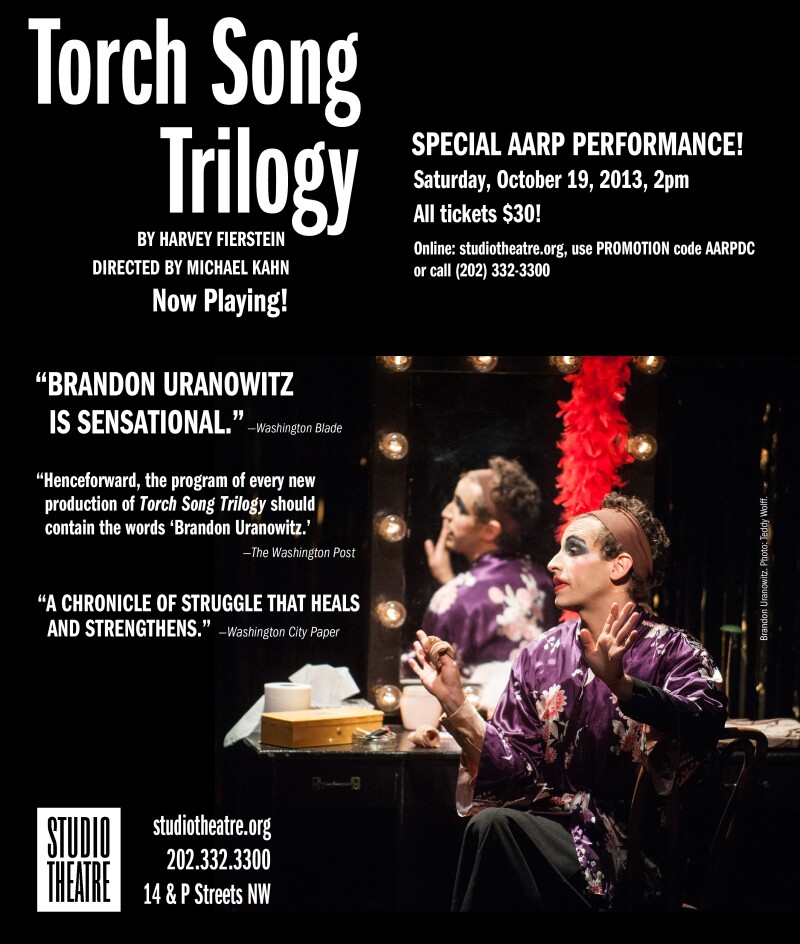 In collaboration with Studio Theatre, AARP DC was successful in selling out a specially-priced matinee performance of the Tony Award-winning production of Torch Song Trilogy. Special thanks to a range of organizations and community listservs for promoting the performance which was a part of AARP DC's ongoing collaboration with The Studio Theatre.
First performed in 1981, Harvey Fierstein's bittersweet comedy resonates with today's questions about marriage, family, and self-acceptance in the gay community and beyond. With biting wit and startling poignancy, Torch Song Trilogy illuminates a defiant romantic's fight for intimacy, honesty, and respect in a hostile world.
" Torch Song Trilogy was a treat for everyone to have an opportunity to experience live theatre. It is a classic and it's a bit heartbreaking to see how many of the issues and attitudes the LGBT community were dealt with back then, but continue to be issues and attitudes even now. Brandon Uranowitz is phenomenal as the lead," said Mercy Morganfield, AARP DC State President.
"The story, although complex and in many ways tragic, managed to be uplifting, filled with hope, and totally hilarious."
Earlier this year, The Studio Theatre offered to AARP DC the production 4000 Miles. Torch Song Trilogy was the second AARP DC local member offering in 2013 at The Studio Theatre.
"I did enjoy the play. You have to be open-minded to understand some parts of the play," said Patricia Harrison, Vice President of AARP Penn Branch Chapter #3473 and an AARP DC volunteer. "I was familiar with the background of the writer, so I knew what to expect. I would go to another play that AARP supports."