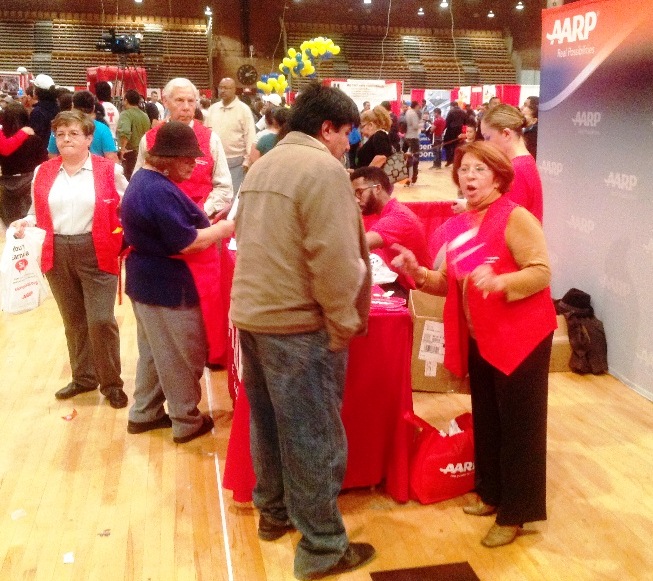 Information on the Affordable Care Act (ACA) was a big draw for more than 2,000 visitors to the AARP DC booth at "La Feria de la Familia" (The Family Fair Day) held recently in Washington, DC. AARP DC was a first-time sponsor for this annual event organized by media giant Telemundo. "La Feria de La Familia," one of the largest free events for the Latino community in the Washington, DC, Virginia and Maryland area, was an opportunity for AARP DC to engage over ten Spanish speaking volunteers and build on its outreach initiatives to the Latino community.

Going into "La Feria de La Familia" AARP DC relied on research indicating that Latino males are the last to pursue health insurance. AARP volunteers were able to talk to male attendees visiting the booth about the Affordable Care Act (ACA). Booth visitors also were guided through AARP's special online "tool" to begin the process for signing up for health insurance. AARP has partnered with the Health Benefit Exchange Authority http://hbx.dc.gov to educate Washington, DC residents about ACA.

When speaking to visitors at the AARP booth, Lola Ortiz, one of AARP DC's volunteer leaders in its Latino engagement, realized that many people had heard of AARP, but were unclear on what the association offers. Visitors to the booth were excited to learn about a wide range of issues from AARP's Spanish-speaking staff and volunteers had to offer.

Lola continued by saying, "People wanted to better understand how Obamacare would affect them. Also, many did not know they might be eligible for Medicaid," said Lola. "I emphasized that the AARP online tool, www.MiLeyDeSalud.org, had official and safe information about health insurance. After answering questions through the AARP tool, one of us walked each person to the DC HealthLink booth where they could speak with someone in Spanish to get additional information."

As a part of its Latino outreach, AARP DC will continue to seek opportunities with event organizer Telemundo. Recognizing the value of AARP DC's sponsorship, Mariana Barrientos, Regional Account Executive at Telemundo WZDC, the local Washington, DC affiliate said, "We are certain that the participation of AARP at Telemundo WZDC- La Feria de la Familia 2013, was vital in educating our Hispanic community about the available resources that AARP offers them, and how to maximize the services through this unique organization"