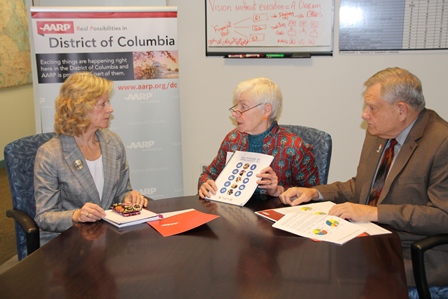 On December 10, 2014 at the DC Stadium Armory, nearly two years after the District embarked on the exciting journey to become an age-friendly city, Mayor Vincent Gray submitted to AARP the Age-Friendly DC by 2017 Strategic Plan. The plan now goes to the World Health Organization (WHO) as a part of the process for Washington, DC to be designated an "Age-Friendly City." This plan, a product of the Mayor's Age-Friendly Task Force, reflects the commitment of District residents and stakeholders to prepare the city for a future with a growing older population. The document incorporates the voices of thousands of people, the knowledge of local and national leaders in many fields, and the best practices learned from other cities in WHO's age-friendly network.

The Age-Friendly DC Strategic Plan is framed by the eight issues or domains identified by WHO that impact the well-being and quality of life of people 50 years of age and older., The domains are broad enough to reflect all who live in, work in and visit the District of Columbia. The eight domains are as follows:

1. Outdoor spaces and buildings
2. Transportation
3. Housing
4. Social participation
5. Respect and social inclusion
6. Civic participation and employment
7. Communication and information
8. Community support and health services.

Age-Friendly DC also added DC-specific domains that reflected the unique values, issues and challenges of DC residents. The DC-specific domains are:

9. Emergency preparedness and resilience
10.Elder abuse, neglect and fraud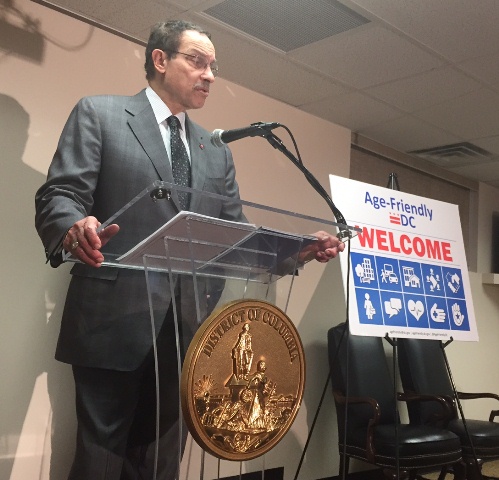 Since 2012, Age-Friendly DC received input to this plan from nearly 3,500 residents and stakeholders through surveys, public meetings, and community consultations. the needs and desires of older District residents were used to inform the city's plan. A Block-by-Block walking survey was led by AARP DC, Age-Friendly DC and George Washington University to visually assess needs within DC neighborhoods.

So what's next in the process for the District to be designated an "age-friendly city?" The Age-Friendly DC by 2017 Strategic Plan will be used to guide the ongoing work of Age-Friendly DC, the Task Force and District government agencies and partners. While the plan will lay out the goals that the District aspires to achieve, this document will remain as a guide for District residents and stakeholders to follow.

Here is where you can find a copy of the Age-Friendly Strategic Plan.

To provide the full background on how AARP DC has been involved with making the District age-friendly, here is a DCTV panel discussion coordinated by the DC Office on Aging.


http://youtu.be/KSRQeA6PX1U[/youtube]