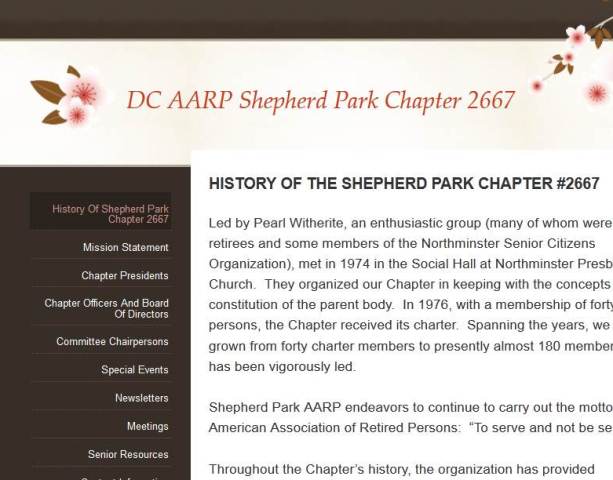 About four years ago, AARP DC's Shepherd Park Chapter #2667 decided it needed to communicate with its members and others in other ways than newsletters, email and telephone tree. Under the guidance of chapter member, Donna Graham, who created the site and is webmaster, Shepherd Park Chapter #2667 has been able to share pictures, newsletters, special events and senior resources.

The hosting web server is free and one does not need to be an "internet master." Tutorials and helpful information are available. To learn more about this free web hosting service, go to www.weebly.com The Shepherd Park Chapter #2667 website is at www.shepherdpark2667.weebly.com. Further, if you want to become more "tech savvy," AARP has a free online training site where one can learn about equipment, social media, online privacy and a range of options to build your tech muscles. Visit http://www.aarp.org/AARPTEK for more information.

About AARP Chapters
AARP members (age 50 and older) and their spouses are eligible for chapter membership. The first AARP chapters were organized in 1960. By 1961, over 100 chapters were organized. Today, there are over 1,400 AARP chapters across the United States, Puerto Rico, and the Virgin Islands. A minimal yearly fee is charged to help run the business of the chapter. Some chapters have fund-raising activities to help support local senior projects, provide scholarships for students, or donate money to worthy causes.
Our chapters offer another way to make AARP the next chapter in your life!
Click here to find a chapter in your area.