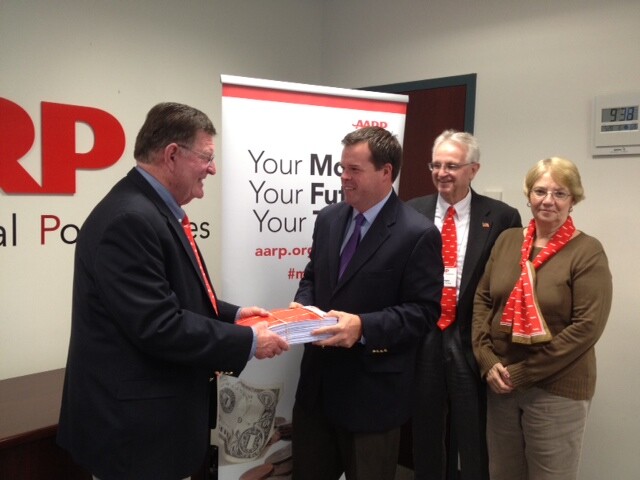 AARP volunteers this week delivered nearly 1400 petitions signed by Connecticut residents to U.S. Senator Chris Murphy. Murphy's District Director, Ken Curran, visited AARP Connecticut in Hartford where staff and volunteers presented him with the petitions and urged the Senator to support efforts by the Department of Labor to close a loophole in the law that allows unscrupulous financial advisers to take advantage of hard-working Americans and line their own pockets.

Millions of Americans depend on 401(k)-style plans for their retirement savings. These plans often involve complex financial decisions which require people to use and trust investment professionals for guidance.

AARP State Director Nora Duncan said, "While most investment professionals are already looking out for the best interests of their clients, loopholes in the law allow some to take advantage of hard-working Americans by recommending investments with higher fees, riskier investments, and lower returns, to make even higher profits for themselves. In fact, last year alone, hidden fees, unfair risk and bad investment advice robbed Americans of as much as $17 billion."

AARP is urging members of Congress to stand up to Wall Street and support the rule-making effort that would set a new standard to hold Wall Street bankers, brokers, and insurance agents genuinely accountable for helping their clients choose the best investments for them, their family and their future. AARP also has delivered thousands of petitions to the Department of Labor in support of the rule.

Sign the petition to stop Wall Street from draining American's retirement savings.

AARP volunteer Fred Palmer of Bethlehem, CT, who helped deliver the petitions said, "AARP is fighting for genuine accountability to protect millions of Americans who've worked hard to save so they have peace of mind about their financial stability. Retirees like me deserve a new standard that requires anyone who gives financial advice to recommend only those investments that help us live with freedom and independence in retirement."

To read and sign the petition, visit www.aarp.org/loophole.