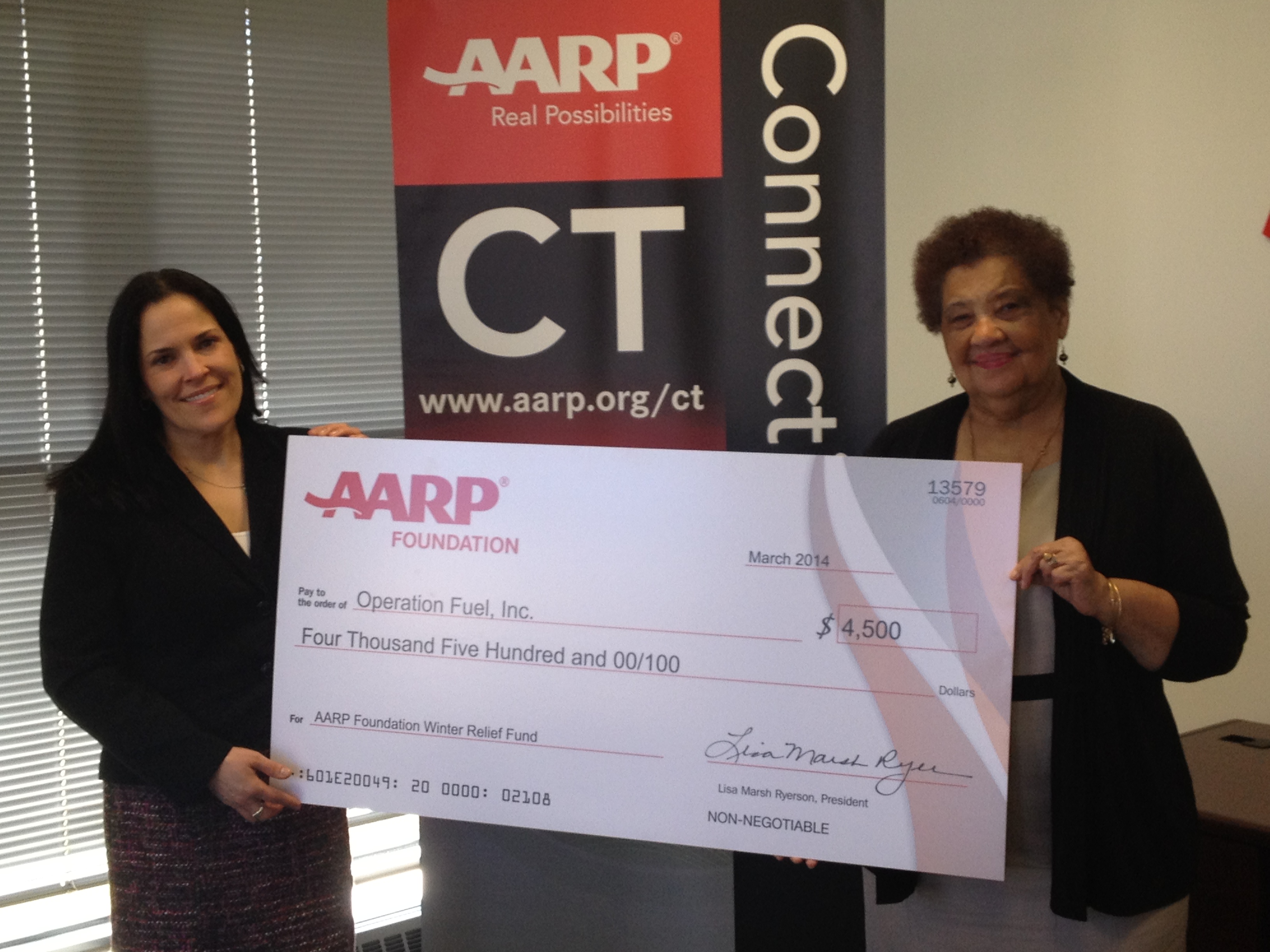 AARP Connecticut has presented a check in the amount of $4500 to Operation Fuel, Inc. in Bloomfield, CT from the AARP Foundation winter relief fund to assist Connecticut seniors who are struggling to pay their heating bills this winter. The winter relief fund was established in January by AARP Foundation to support older adults suffering from the severe cold weather. The Foundation focused on states across the Northeast and Midwest and worked with local AARP State offices to direct funds to organizations providing relief to the most in need.

"Thanks to the generosity of donations from AARP members and the public, the relief fund is helping older adults across the Midwest and Northeast who struggle with limited income and are faced with increased heating costs this winter," said AARP Connecticut State Director, Nora Duncan. "Operation Fuel provides critical assistance to Connecticut residents who are struggling to pay their heating bills so that they don't have to choose between staying warm and buying groceries or needed medications. This winter has been particularly harsh and we are pleased that this funding will be used to directly help local residents in need."

According to Patricia Wrice, executive director of Operation Fuel, Inc., "This winter has been extremely brutal for Connecticut's most vulnerable residents- our seniors. Since 2012 Operation Fuel has experienced a 50% increase in the number of senior citizens who need help paying for heat and lights. Operation Fuel is truly grateful for this wonderful gift from the AARP Foundation."

AARP and AARP Foundation will match dollar-for-dollar contributions to the winter relief fund, up to $250,000, which could mean up to $500,000 in aid. The matching program is administered through AARP Foundation. All funds go directly toward efforts to help older Americans survive this harsh winter. To donate to the relief efforts, please go to: www.aarp.org/disasterrelief.

Operation Fuel is Connecticut's sole year-round emergency energy assistance program. They have been providing heat and lights to those in need since 1977. Due to the high cost of heat and lights, energy insecurity has become a year-round issue for those living on low fixed incomes. Support Operation Fuel through the Add-A-Dollar program by adding one dollar to your utility bill, both paper and electronically. 100 percent of the funds raised through the Add-A-Dollar program are used for energy assistance grants. The utility companies also match a percentage of the funds raised. To donate more than one dollar through the Add-A-Dollar, please contact your utility company. For more information please visit Operation Fuel's web page at www.operationfuel.org

About AARP Foundation
AARP Foundation is working to win back opportunity for struggling Americans 50+ by being a force for change on the most serious issues they face today: housing, hunger, income and isolation. By coordinating responses to these issues on all four fronts at once, and supporting them with vigorous legal advocacy, the Foundation serves the unique needs of those 50+ while working with local organizations nationwide to reach more people and make resources go further. AARP Foundation is a charitable affiliate of AARP. Learn more at www.aarpfoundation.org.