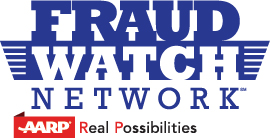 AARP Georgia realizes identity theft is a major problem in our state. According to the Governor's Office of Consumer Protection, in 2012, Georgia was the state with the second greatest number of complaints related to identity theft filed with the Federal Trade Commission.

In Georgia, the AARP Fraud Watch Network helps people fight back against fraud, identity theft, and scams. Augusta community members are invited to learn how to protect their financial resources and identity during a Fraud Watch Network workshop on Wednesday, September 10, from 10am-12pm at the KROC Center, 1833 Broad Street, Augusta.

AARP Fraud Watch Network gives access to:

The latest, breaking scam alerts and fraud prevention tips, delivered right to your email inbox.
A scam-tracking map www.aarp.org/fraudwatchmap where you'll find the latest scam alerts from local experts and law enforcement, and more.
"Every two seconds someone's identity is stolen and it is important to remember anyone can be a victim of fraud. That's why AARP Fraud Watch Network is free of charge to anyone, of any age to be able access alert warnings about the latest scams, information about how con artists target their victims and a network where you can share your experience with other Georgians who might need it," says Charima Young, AARP Georgia Associate State Director – Community Outreach.

During the workshop session, Georgians will learn fraud trends and behavior, con artist's playbook, practice spotting fraud, and prevention and resources. For more information about the AARP Fraud Watch Network, visit aarp.org/fraudwatchnetwork or contact 1- 877-908-3360. To register for the session, contact Jeanette Cummings at jcummings@csrarc.ga.gov or 706-210-2013. For volunteer opportunities with AARP Georgia, please contact 866-295-7281.