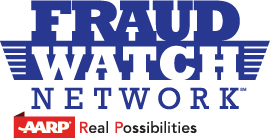 A kick off/press conference is scheduled for Tuesday, August 5, 11am at the Historic Terminal Station, 700 Poplar Street. AARP Georgia is collaborating with the Macon-Bibb Sheriff's Department to encourage local community members to participate in "Americas' Night Out Against Crime." In support of this event, AARP Georgia will provide a Fraud Watch Network workshop on August 5, 12:30pm at the Douglass Theatre, 355 Martin Luther King Jr. Boulevard. During the workshop, performances will be provided by local youth from Phillips Performing Arts, Inc. Neighborhood events and activities will take place from 6pm-9pm. AARP will be at select locations distributing important information about fraud prevention. The goal of the evening is to help the community learn more about trends and the behaviors con artists use on their victims, con artist playbook, resources on scams, and frauds and how to spot scams & frauds.

Local community members are encouraged to turn on their porch lights to signal their participation, learn identity theft strategies, and join people nationwide in locking their doors and spending the evening outside with neighbors, deputies, local government officials, and firefighters.

AARP Fraud Watch Network gives access to:

The latest, breaking scam alerts and fraud prevention tips, delivered to your email inbox.
A scam-tracking map www.aarp.org/fraudwatchmap where you'll find the latest scam alerts from local experts and law enforcement, and more.


Charima Young, AARP Georgia Associate State Director – Community Outreach says, "The AARP Fraud Watch Network provides alert warnings about the latest scams, information about how con artists target their victims and a network where you can share your experience with other Georgians who might need it." This event is free and open to the general public.

The introduction of National Night Out, "America's Night Out Against Crime," in 1984 began as an effort to promote involvement in crime prevention activities, police-community partnerships, neighborhood camaraderie, and send a message to criminals letting them know that neighborhoods are organized and fighting back. This year, Neighborhood Watch groups and neighborhoods throughout Macon-Bibb will celebrate National Night Out with a variety of activities including the Fraud Watch Network workshop, block parties, cookouts, neighborhood clean-ups, flashlight walks, story time, distribution of school supplies for families, and visits from law enforcement, and fire personnel.

For more information on National Night Out or Neighborhood Watch, contact Judy A. Gordon, Crime Prevention Coordinator (478) 803-2711 or jgordon@maconbibb.us. To learn more about the AARP Fraud Watch Network, visit aarp.org/fraudwatchnetwork or contact (877) 908-3360.