AARP Honors Representative Linda Harper-Brown for Her Leadership
Nine legislators honored for their efforts on behalf of older Texans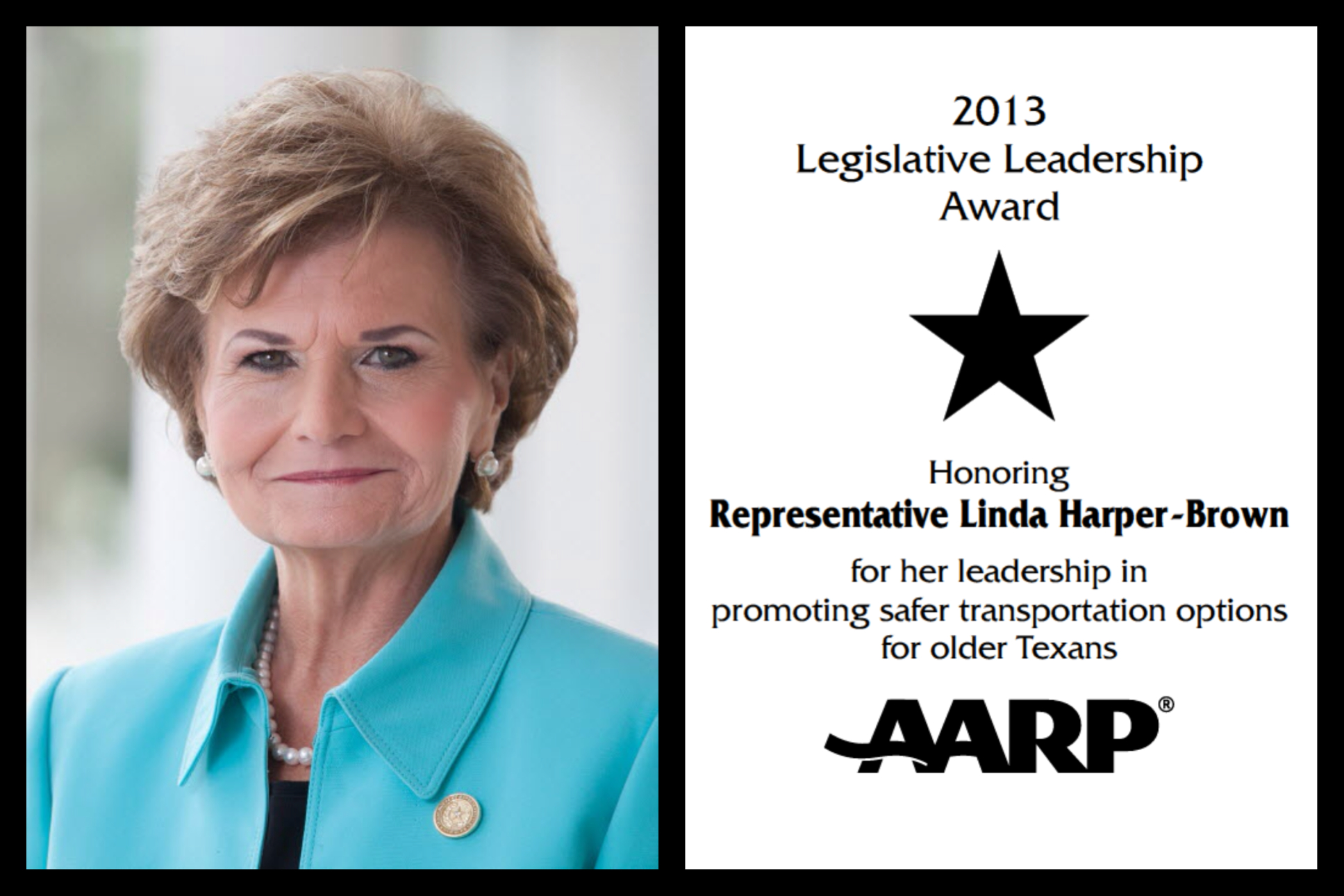 IRVING, TEXAS–AARP Texas is recognizing the work of State Representative Linda Harper-Brown of Irving by presenting her with a 2013 Legislative Leadership Award.

The award recognizes Representative Harper-Brown's leadership in supporting a "Complete Streets" law in Texas that encourages transportation planners and decision makers to think in terms of access and safety when planning communities or renovating streets. This legislation wouldn't cost the state additional money; it would merely require cities and counties to plan with the needs of motorists, public transit users, cyclists and pedestrians in mind.

While the measure was not adopted this session, it helped raise the visibility of the need to make more transportation options available and to design safer roadways and sidewalks.

"We appreciate the leadership of Representative Harper-Brown in trying to improve travel options for people of all ages. Whether walking, biking or taking public transportation, Complete Streets create a safe space for all Texans, helping them get where they need to go," said Bob Jackson, AARP Texas director.

AARP is also honoring several other legislators for their work on behalf of Texans age 50+, including:

Representative Senfronia Thompson (D-Houston) and Senator Jose Rodriguez (D-El Paso) for protecting seniors from financial abuse through power of attorney legislation
Senator Robert Duncan (R-Lubbock) and Representative Bill Callegari (R-Katy) for work to strengthen the retirement systems for teachers and state employees
Representative Sylvester Turner (D-Houston)for leadership and dedication to protecting services for seniors
Representative John Zerwas (R-Richmond) for leadership in improving services for seniors
Representative Tom Craddick (R-Midland) for leadership on payday and auto title lending reform
Senator Rodney Ellis (D-Houston) for leadership towards providing more transportation options for older Texans
Awards will be presented to legislators at ceremonies in their hometowns. AARP presents these awards every two years, after each state legislative session.