You work hard and you deserve a secure financial future.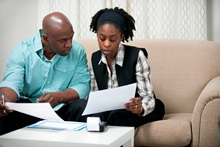 In today's economic climate, you know you can't count on Social Security alone to have the retirement you want. After decades of hard work, you want financial independence and security to enjoy your future. AARP is working to help you plan by providing free, unbiased information so that you can make smart financial decisions.

That's also why AARP is advocating for Senate Bill 2758 - the Illinois Secure Choice Savings Program. Join AARP and guest speaker, State Senator Daniel Biss, at an upcoming forum to learn more about taking charge of your financial future and the Secure Choice program - a commonsense solution that would help more Illinoisans retire on their own terms.

Please click on the date below to register for your preferred session. You can also register by phone at 1-877-926-8300.



11:00am - 1:00pm

Rock of Ages Fellowship Hall, Lower Level

1309 Madison Street - Maywood, IL 60153



7:00pm - 9:00pm

Trinity United Church of Christ - Village Center

1947 W. 95th Street - Chicago, IL 60628



11:00am - 1:00pm

New Faith Baptist Church International

25 Central Avenue - Matteson, IL 60443



We look forward to seeing you there!