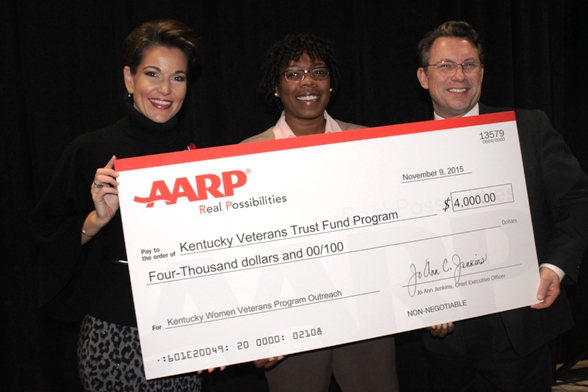 Today our nation honors the men and women who have fought to keep our nation safe and protect our freedom. Kentucky is home to more than 330,000 military veterans, and 140,000 of those are over the age of 65+. Their commitment to duty and nation demonstrate the strength and character of our Kentucky veterans and highlights the debt of gratitude we owe to those who have given us so much.

To honor Veteran's Day and to show our appreciation to our veterans and to our military men and women who have done so much to serve and protect, the Kentucky AARP State Office announced today it is contributing a total of $5,000 to two veterans' organizations in Kentucky.

"There is no greater sacrifice." said AARP State Ron Bridges. "At AARP, we never take for granted the freedom and rights that are protected each day by our military men and women. I welcome this opportunity to say, 'Thank you.'"

The Kentucky State Office of AARP is donating $4,000 to the Kentucky Veterans Program Trust Fund in support of outreach and statewide programming for Women Veterans.

"On behalf of the Kentucky Veterans Program Trust Fund, I thank and congratulate AARP for their generous donation to the Women Veterans Program Trust Fund that recognizes the service and sacrifice of Kentucky's women veterans," said Heather French Henry, Chair of the Kentucky Veterans Program Trust Fund. "As the 2015 Year of the Woman Veteran approaches a close, this donation will help us continue our outreach to Kentucky's women veterans and ensure all 24,000 of them receive all the benefits and services they have earned."

The Kentucky AARP State Office is also donating $1,000 to support NABVETS' ongoing efforts to create safer streets in Louisville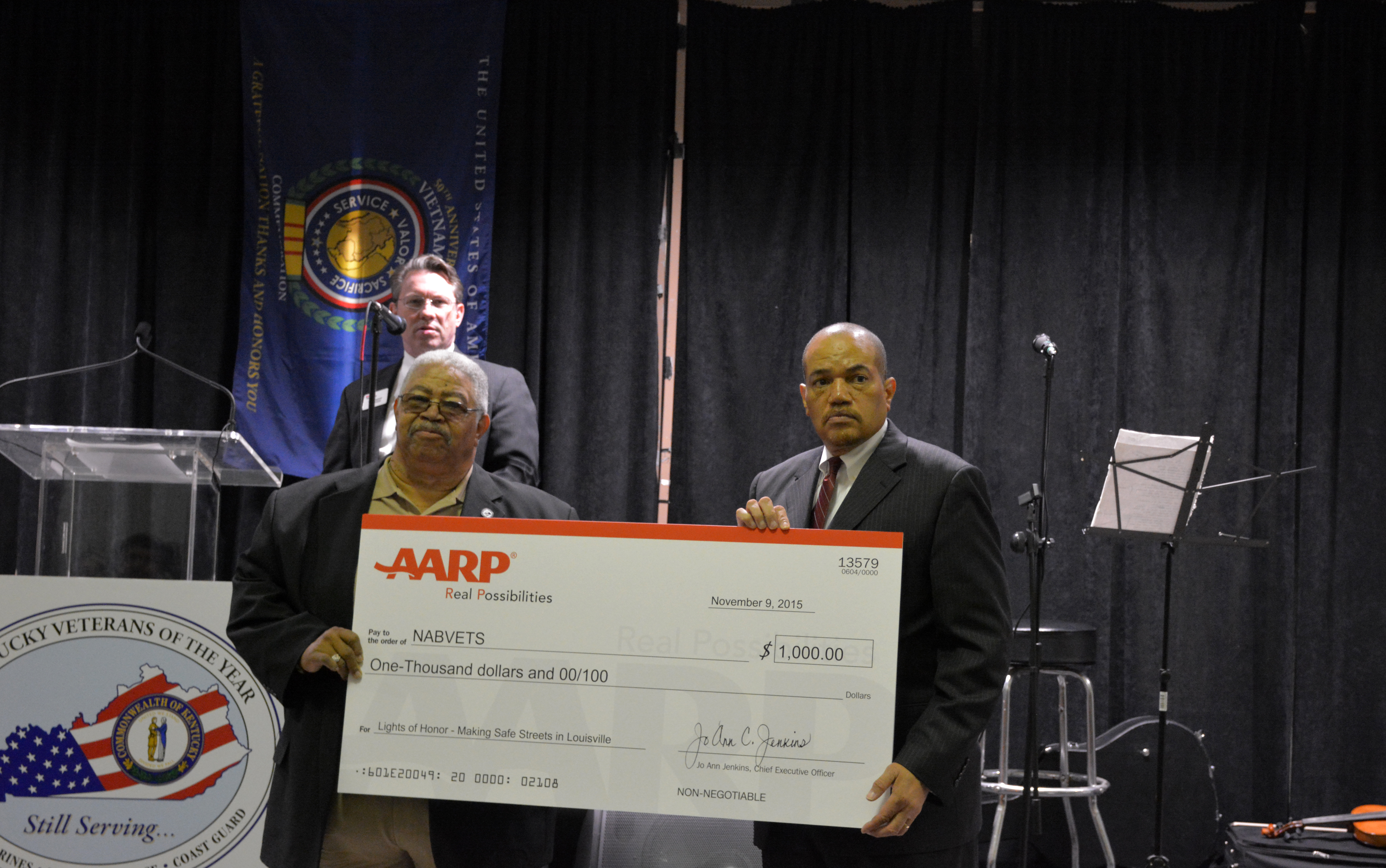 for school children with its Lights of Honor program.

"Too many of our school children are waiting for their bus in in the dark." Stated NABVETS Commander Shedrick Jones, Sr., "We took action to organize local partners, including Louisville Metro Police Department, to have new street lights installed in west Louisville, to make the wait safer for our kids."

The contributions are being made in connection with AARP's Thank a Vet Veterans Day membership campaign. From November 2nd through November 16th, AARP will offer a discounted membership rate up to 20% off for veterans, their families and anyone interested in joining or renewing. Individuals who sign up through this campaign will also have the opportunity to write a personal thank you note to be shared with veterans throughout the country.

AARP's efforts to understand and respond to the special needs of America's veterans and their families have grown rapidly in recent years.

This year, AARP added www.aarp.org/home-family/voices/veterans to our AARP.org family. It's a web page specifically designed to offer a new and useful experience for veterans and their loved ones that will help inform them about our advocacy work, along with all the resources we have available to them from caregiving to job searching. It also features personal stories about the unique challenges veterans and their families face in so many areas.

For more information on AARP's Thank a Vet campaign, call (888) 744-3332 or visit www.aarp.org/thankavet.