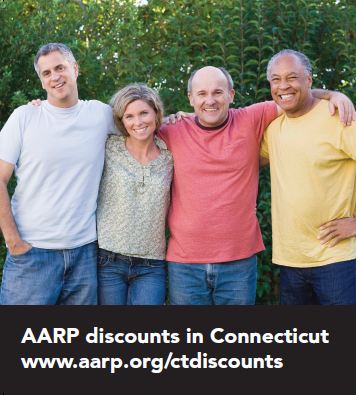 When you think of AARP in Connecticut, do you think of gourmet cooking classes, exotic animals, star-gazing or live theater? Well, you should!

At AARP, we're all about helping you live better and achieve your real possibilities. One of the ways we do that is by negotiating great discounts on local non-profit entertainment and attractions, right here in Connecticut. Discounts that can help you connect with people and places in your community or across the state, such as: 10% off cooking classes at Hartford's The Kitchen/Billings Forge Community Works, 15% off admission to CT's Beardsley Zoo, 20% off tickets to Stamford Symphony performances, and more!

Now that summer is upon us and the kids are out of school, are you looking for fun, family (and budget)-friendly ways to spend time with loved ones? AARP members also can enjoy discounts on admission to Mystic Aquarium, The Discovery Museum and Planetarium, The Stamford Museum and Nature Center, and Bartlett Arboretum.

We've also negotiated discounts for AARP members and their guests for a variety of live theater and musical venues. In addition to The Stamford Symphony, AARP members can enjoy discounts on performances at Hartford Stage, The Garde Arts Center, and The Downtown Cabaret Theater. We also negotiate discounts throughout the year on select shows and performances at The Bushnell Performing Arts Center.

For those interested in more active pursuits, we recently negotiated discounts off annual membership to the Connecticut Forest & Park Association – which maintains over 825 miles of recreational trails throughout the state and serves to protect and preserve Connecticut lands and natural resources for public use and enjoyment. In addition, AARP members can receive a discount on programs and membership at Chapter 126 Sports and Fitness – the region's first adaptive recreational facility for people of all abilities, opening October 2014 in Bristol, CT.

Local discounts in Connecticut are just another way your AARP membership can help you save money, stay active, spend quality time with friends and family, and enjoy many of Connecticut's cultural and natural treasures.

For all current offers, purchase details and restrictions, please click here. Be sure to bookmark the page and check back often as we'll be adding new discounts throughout the year.

Do you have a suggestion for a local discount to a nonprofit arts/cultural/historic or other organization in your region? Email them to us at ctaarp@aarp.org and include "local discounts" in the subject line. To be considered, organizations should be registered 501(c)(3) charities.