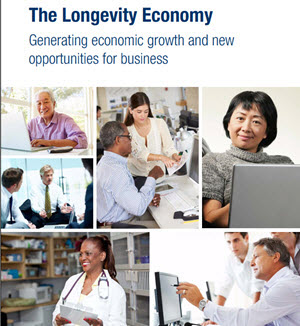 Just how much economic activity in Massachusetts is generated by people over age 50? Business owners and policymakers might be surprised: Across the nation, the aging population has proven to be an important and vital source of economic growth. This growing and powerful population—comprised of boomers and the first of the millennials to turn 50—is active, creative, and working longer, and will fuel economic growth for years to come.

Join AARP Massachusetts, thought leaders, and area policymakers at a breakfast forum to discuss the findings of important new research about the spending power of this population, from a report called "The Longevity Economy-Generating Economic Growth and New Opportunities for Business."

For Massachusetts-specific, facts at a glance, read the The Massachusetts Longevity Economy Datasheet




---


0000016b-01a6-dd13-abeb-61efed060000 WHAT: The Power of Bay Staters 50+: Business & Policy Implications for 2015 and Beyond

WHO: Keynote Speaker: Jody Holtzman, senior vice president, AARP Thought Leadership Panelists: Len Fishman, director, Gerontology Institute, UMASS Boston; Amy Schectman, CEO, Jewish Community Housing for the Elderly; and Amy Whitcomb Slemmer, executive director, Health Care For All

WHEN: Tuesday, Dec. 16, 2014, 8:30-10 a.m.

WHERE: Omni Parker House, Rooftop Ballroom, 60 School St., Boston


---

Facts from the Longevity Economy report

• The Longevity Economy is the sum of all economic activity in the state by consumer spending among households headed by those over age 50.

• In Massachusetts, people over 50 contribute to the economy in a positive way that is disproportionate to their share of the population. Despite representing just 35 percent of the population, the total economic contribution of the Longevity Economy accounted for 49 percent of Massachusetts' gross domestic product (GDP) of $219 billion.

• The Longevity Economy's buying power accounted for the largest share of consumer spending on health care (67 percent), other nondurables such as pharmaceuticals and household supplies (60 percent), and financial services (58 percent).

• In 2013, the Longevity Economy supported 55 percent, or 2.4 million of Massachusetts jobs; 49 percent of employee compensation, valued at $125 billion; and 49 percent of state taxes, to the tune of $20 billion.

• The Longevity Economy contributed largely to job growth, having the greatest impact on jobs in health care (571,000), retail trade (342,000), and accommodation and food services industries (205,000).