Long standing AARP member and Princeton native Anthony Cifelli recalls what it was like when his mother, Angeline Cifelli, would put up young women who were visiting Princeton University for football weekends before the school was coeducational. "I remember, because we'd get kicked out of our bedrooms," Anthony recalled.

Matriarch of th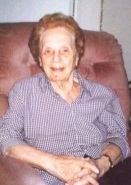 e family, Mrs. Cifelli celebrated her 100 th birthday earlier this month with five generations of relatives. Born Angeline Pinelli on November 16, 1915, Mrs. Cifelli has lived in Princeton for nearly all of her life. Mrs. Cifelli grew up in the Witherspoon-Jackson neighborhood and went to Valley Road School until seventh grade. She married and had four sons, but also found the time to work in the Princeton University laundry and make lunches at Valley Road School. After retiring in the 1960s, Mrs. Cifelli opened The Next Deli with her twin sister Jane. "We sold sandwiches to the students," she recalled.

When asked what the secret to her longevity is, Mrs. Cifelli said, "I love to work. I was taught to work. We worked hard, but we had a lot of fun." Mrs. Cifelli still works hard, heading to the dining room before meals to fold napkins at Morris Hall in Lawrenceville where she has lived for the past three years. This holiday season, as she has every year, Mrs. Cifelli will head to her granddaughter's home to help with the cooking. Known for her meatballs and pastina soup, Mrs. Cifelli still makes egg biscuits and cookies when she can. "My mother's whole life revolved around food," said Anthony.

Excerpts from Town Topics, Princeton's Weekly Community Newspaper.