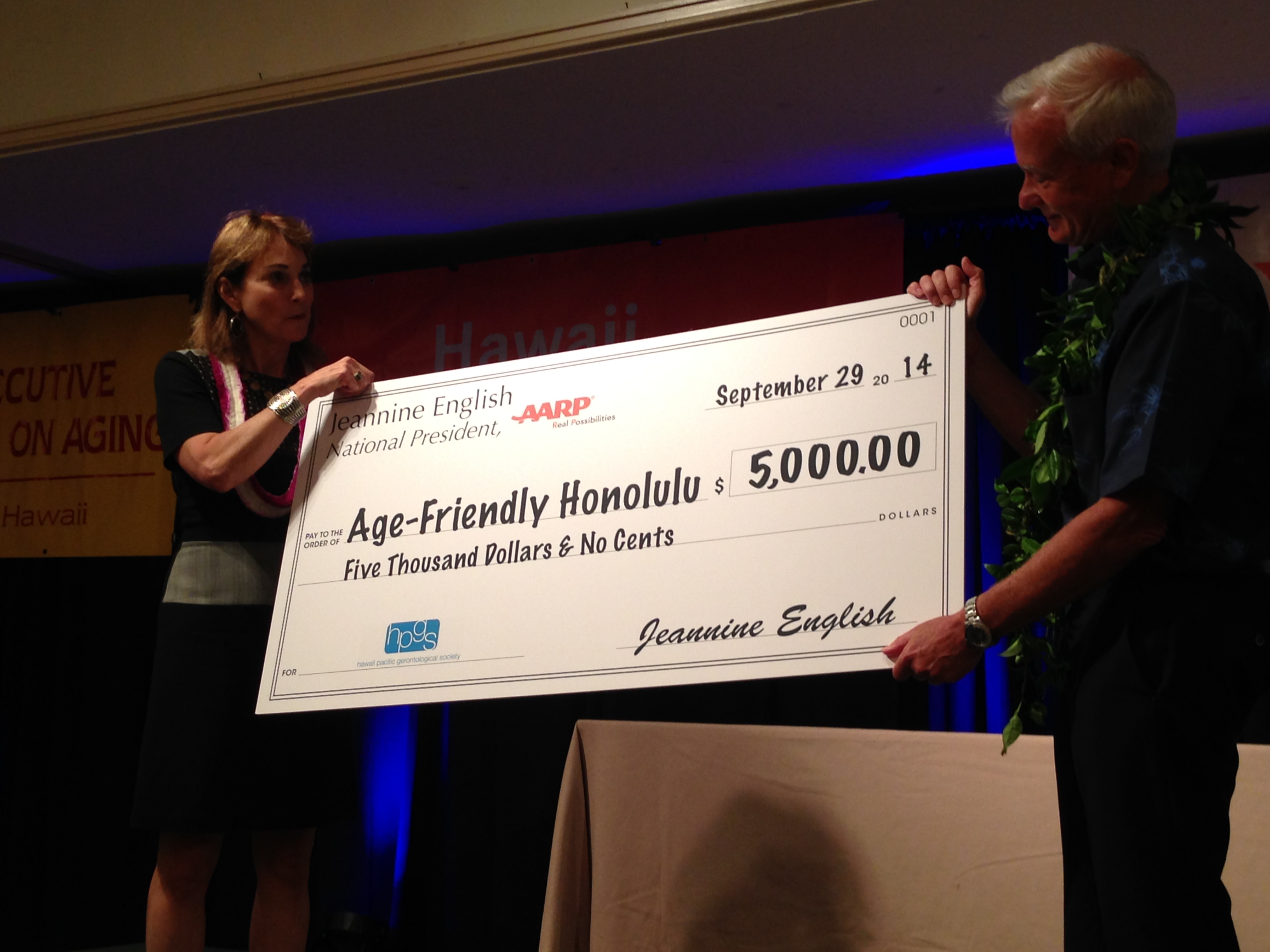 AARP national President Jeannine English delivered the keynote presentation at the Hawaii Pacific Gerontological Society Conference on September 29, where she met with Honolulu Mayor Kirk Caldwell and donated a check to Honolulu's Age-Friendly City initiative.

English spoke about the importance of the Age-Friendly City partnership with the City and County of Honolulu, AARP Hawaii, and the World Health Organization's Global Network of Age-Friendly Cities and Communities. Announced by city officials in March, 2014, the initiative is intended to prepare Honolulu for rapid aging and accelerating urbanization.

During her three-day visit to Hawaii, she also met with volunteers and local community leaders and was interviewed by media outlets on livable community, family caregiving, and related issues.

A recent U.S. Census report ranked urban Honolulu as having one of the highest percentages of people age 65 in the country – and the highest percentage of people age 85+.

The visit coincided with the release of a survey of older adults on Oahu that ranks affordable home health care and housing among the greatest needs facing city residents as the population ages. The 2014 AARP Livable Communities Survey in Honolulu, Hawaii of Adults Age 45+ identifies the needs of older residents as well as gaps in community features and services. The data will be used as a baseline to help city planners develop an action plan to address community needs and priorities.

KITV Livable Communities Report

Survey respondents identified community and health services as the most important need as they get older. But while Honolulu's older adults consistently said they wanted to age in place, many were not aware of the services they might need to fulfill that intention. Indeed, over half of those surveyed said they are not sure about the availability (59 percent) or affordability (61 percent) of home health services.

The report is based on data from a mail survey of 7,500 residents on the island of Oahu, of which 607 useable surveys were returned for a response rate of 8.5 percent. The survey has a margin of error of ± 4.0 percent.

AARP is a nonprofit, nonpartisan organization with nearly 150,000 members in Hawaii. AARP helps people turn goals and dreams into real possibilities, strengthens communities, and fights for the issues that matter most to families – including healthcare, employment and income security, retirement planning, affordable utilities, and protection from financial abuse.