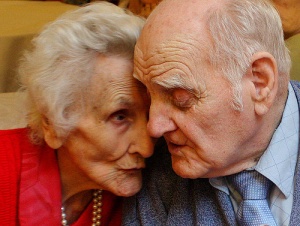 FOR IMMEDIATE RELEASE March 18, 2013

CONTACT: Jerry Cohen 503-513-7373

They value Oregon's model system that promotes choice, independence and dignity at home and home-like settings, as they worry about whether they can remain at home as they age.

CLACKAMAS -- Results of a new 2012 OR LTC_Caregiving REPORT Finalranks Long-Term Care Services & Supports for vulnerable seniors just below jobs creation/economic development and just above K-12 education as the most important issue legislators must address this session. The survey found that the three top rated/high priorities for AARP members in Oregon are: job creation (81%), Long-Term Care for vulnerable and low income seniors (74%), K-12 education (70%).

While Oregon certainly is aging, the greatest need for long-term care is among ages 85+. The number of Oregonians 85 and over is projected to increase from 80,959 in 2010, reaching 121,741 in 2022. [i] This is the group most likely to need long-term care services. While the Boomers born between 1946-1964 are creating a dramatic shift in population, the major waves of significantly increased needs will hit around 2030. Oregonians age 50+ realize that investing now in maintaining and growing our system makes sense.

AARP Oregon members value choice

A solid 90 percent of those surveyed said that their ability to choose how and where they and their family receive long-term care services is extremely important or very important.

While a third of AARP members prefer a family member or friend to provide care, 59 percent said they prefer to pay a nurse or personal care assistant to provide care, and 58 percent prefer to have services in their home or residential facility, such as assisted living.

"This value is reflected in Oregon's nationally acclaimed model of community-based long-term care. It is based upon Oregon law [ii] enacted in 1981 to serve as an efficient and humane approach to meeting the needs of our most vulnerable citizens, seniors and people with disabilities," said Chad Cheriel, AARP Oregon volunteer president.

AARP members are concerned that Oregon's model system for LTC will not be available for them

When AARP members were asked how worried they are about staying in their own home as they get older, 31 percent said they were extremely or very worried, and 40 percent said they were somewhat worried.

Oregon currently has 140 Nursing Facilities (12,200 beds), 214 Assisted Living Facilities (over 14,000 beds), 247 Residential Care Facilities (about 9,500 beds), and over 1,700 Adult Foster Homes (at least 8,100 beds). The average annual rate in Portland for stay in a Nursing Home is $81,760; for Assisted Living Facility is $41,170; and, for Home Care services is $27,300. [iii]

While over one-third of AARP members have or are currently providing care for loved ones, most will experience caregiving sometime in their life. Rosalynn Carter once said, "There are only four kinds of people in the world – those who have been caregivers, those who currently are caregivers, those who will be caregivers, and those who will need caregivers."

"AARP Oregon and our partners will continue to advocate for care that is smart, affordable and evidenced-based," concluded Jerry Cohen, AARP Oregon state director.

The survey of 2,000 Oregon AARP members was conducted Nov. 28, 2012 to Jan. 13, 2013. There is an error rate of +3.8%.



-30-


AARP is a nonprofit, nonpartisan organization, with a membership of more than 37 million, that helps people 50+ have independence, choice and control in ways that are beneficial to them and society as a whole. AARP does not endorse candidates for public office or make contributions to either political campaigns or candidates. We produce AARP The Magazine, the definitive voice for Americans 50+ and the world's largest-circulation magazine; AARP Bulletin, the go-to news source for the 50+ audience; AARP VIVA, a bilingual lifestyle multimedia platform addressing the interests and needs of Hispanic Americans; and national television and radio programming including My Generation and Inside E Street. The AARP Foundation is an affiliated charity that provides security, protection, and empowerment to older persons in need with support from thousands of volunteers, donors, and sponsors. AARP has staffed offices in all 50 states, the District of Columbia, Puerto Rico, and the U.S. Virgin Islands. Learn more at www.aarp.org.