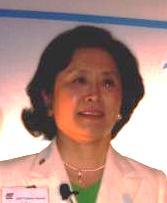 AARP's Lily Liu loves talking about the history of AARP. She has spent the better part of ten years researching the background of the national organization and its founder, Dr. Ethel Percy Andrus.

Recently, AARP's Lily Liu visited the state office of AARP in Phoenix, where she sat down with AARP Arizona Associate State Director David Parra for an indepth interview on the history of the national organization.

Watch the interview and learn about AARP's beginnings and Dr. Andrus' passion for serving others.

Dr. Ethel Percy Andrus was a retired high school principal who founded AARP in 1958. AARP evolved from the National Retired Teachers Association (NRTA), which Dr. Andrus had established in 1947 to promote her philosophy of productive aging, and in response to the need of retired teachers for health insurance.

Learn more by watching Lily's interview.

Check out AARP Arizona on Facebook!