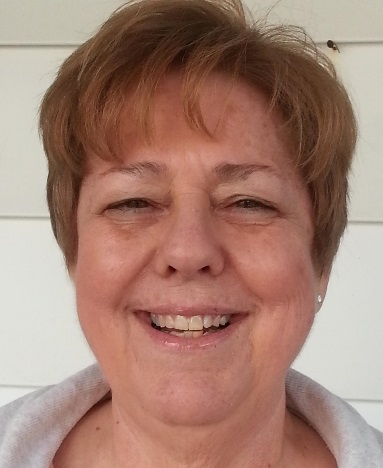 Guest Blog b y Carol Hazlett, AmeriCorps VISTA Leader, Agency on Aging of South Central CT --

When Denise Milanese, a Guardian Ad Litem volunteer age 60 from Fairfield, CT, got word that the nonprofit she had been volunteering with, Children In Placement, was looking to have an AmeriCorps VISTA serve at their organization in New Haven, CT Denise knew it was the perfect opportunity to take her service to the next level: "I had been volunteering with the organization already and when the position listing came out the timing was perfect, it was meant to be."

Denise enjoyed her experience as an AmeriCorps VISTA so much that she went on to serve for a second year with Children In Placement. "I took it as an opportunity to educate myself in a different industry – nonprofits. At Children In Placement my title was the Development Specialist AmeriCorps VISTA. A lot of my work entailed fundraising, grant writing, event planning, and tracking data. It was very different than any work I had ever done before, I learned a lot."

Established in 1964 by Lydon Johnson and incorporated into the Corporation for National and Community Service by the Clinton administration in 1994, VISTA, or Volunteers in Service to America, was a major component on the war on poverty. Today, AmeriCorps VISTA carries on that legacy with over 7,000 members each year committing to one year of fulltime service at an organization that addresses issues relating to the most pressing issues we face-- housing, employment, education, nutrition, and veterans.

One unique aspect is that no previous experience is required, only a strong passion in serving your community and a commitment to get things done. While many AmeriCorps VISTAs tend to be young adults, over the years there has been an increase in number of adults, like Denise, who are becoming AmeriCorps VISTAs later in life. According to Denise, "It is a very viable opportunity for someone in their retirement or even in between jobs. You are able to give back to the community, keep physically/mentally sharp, and the thousand dollars a month can go a long way to help with finances."

Ted Surh, CEO and President of the Agency on Aging of South Central Connecticut states, "I think older adults volunteering bring more than the usually acknowledged benefits: improved social connectivity, perspective from the experience. For the society as a whole, it brings a sense of an orderly transition, especially in this very fast paced internet-social media based world. Older adults sharing their life time of learning with the next generation allows our new generation to have a deeper perspective on life. In many cultures, a stable society is built upon the tradition of following the practices set for them by their elders. When that tradition is broken, very chaotic episodes often can ensue. We have an opportunity to engage our older adults to teach us their wisdom to manage our lives more wisely."

Whether someone is looking to make a career change, has been unemployed, or even retired – the AmeriCorps VISTA experience makes for a great resume builder and a once in a life time opportunity.

In addition to the experience and the stipend that AmeriCorps members receive, other benefits include health coverage, childcare assistance, and the choice of an end of year stipend or a $5,550 education award. The education award can be used towards past student loans or future educational expenses at any educational institution that accepts federal financial aid, which can include pursuing a degree or learning something new—from cooking classes to hairdressing to learning how to ride a motorcycle!

AmeriCorps VISTAs are valuable resources to many nonprofit organizations that often need the assistance to thrive, yet lack the financial ability to hire staff. During the year AmeriCorps VISTAs do a lot of 'behind the scenes' tasks to help build an organization's capacity. AmeriCorps VISTAs serve as a temporary resource for the organization, but create systems that remain sustainable once the VISTA has completed their year.

The AmeriCorps VISTA program, PAVE New Haven, is looking for individuals who are interested in serving in New Haven, CT starting in July and August 2014. PAVE New Haven, sponsored by the Agency on Aging of South Central Connecticut, is a collaboration among community organizations working together to foster the success of New Haven children and families. The service provided by PAVE New Haven AmeriCorps VISTAs has created a positive change within the community and will continue to make a difference in the children, families, and schools in which they serve.

For more information or to apply, contact Shannon Mykins at smykins@aoascc.org.

Article written by Carol Hazlett, Americorp VISTA leader/Agency on Aging of South Central CT. Photo courtesy of Denise Milanese.