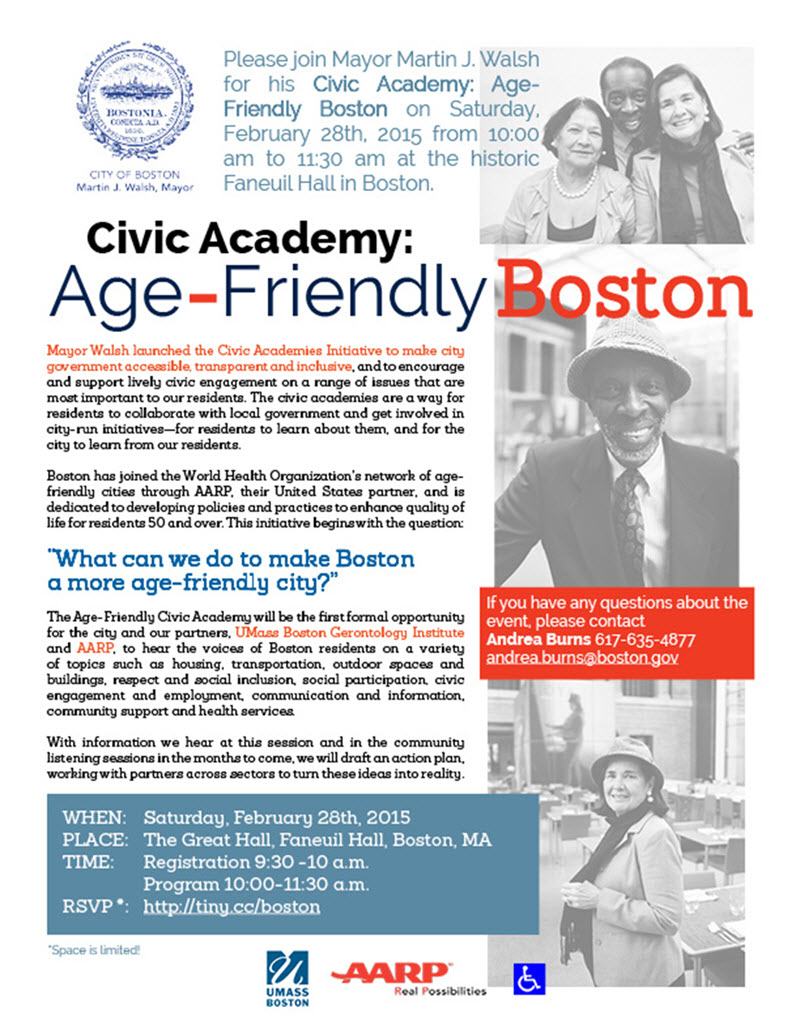 If you're a Boston resident you're cordially invited to Mayor Martin J. Walsh's next Civic Academy class, "Age-Friendly Boston," on Saturday, Feb. 28, 2015 at Faneuil Hall. The event is free but registration is required.

This new initiative — officially called Mayor Walsh's Civic Academies — is designed to foster engagement between city government and Boston residents. During each Civic Academy, Mayor Walsh and other officials engage with residents about all aspects of life in the city, and pledge to make city government "accessible, transparent and inclusive," according to the Mayor's office.



This subject of this Civic Academy — "Age-Friendly Boston" — focuses on the city's status as a member of the World Health Organization's network of age-friendly communities, through a partnership with AARP. Mayor Walsh and his staff are committed to developing policies and practices to enhance the quality of life for Boston residents who are 50-plus. This initiative begins with the question: "What can we do to make Boston a more age-friendly city?"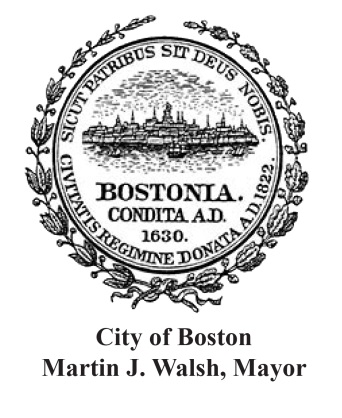 With partners AARP Massachusetts and the UMass Boston Gerontology Institute, city officials want to hear from residents on issues including housing, transportation, outdoor spaces and buildings, respect and social inclusion, social participation, civic engagement and employment, communication and information, and community support and health services.

The Age Friendly Boston Civic Academy takes place on Saturday, Feb. 28, 2015, from 9:30-11:30 a.m., in the Great Hall, 2 nd floor, Faneuil Hall, Boston.

Attend this free event and make your voice heard about how to make Boston an Age-Friendly city!


---

WHAT: Boston Civic Academy on Age-Friendly Boston

WHEN: Saturday, Feb. 28, 2015 from 10-11:30 a.m.

WHERE: Faneuil Hall, The Great Hall, 2nd Floor, 1 Faneuil Hall Square, Boston, MA 02109

TIME: Registration is from 9:30-10 a.m.; the program begins at 10-11:30 a.m.

REGISTER: The event is free but tickets are required. Register here for tickets.


---



If you have any questions about the event, please call or email Andrea Burns in the Mayor's Office at 617-635-4877 or Andrea.Burns@Boston.gov.