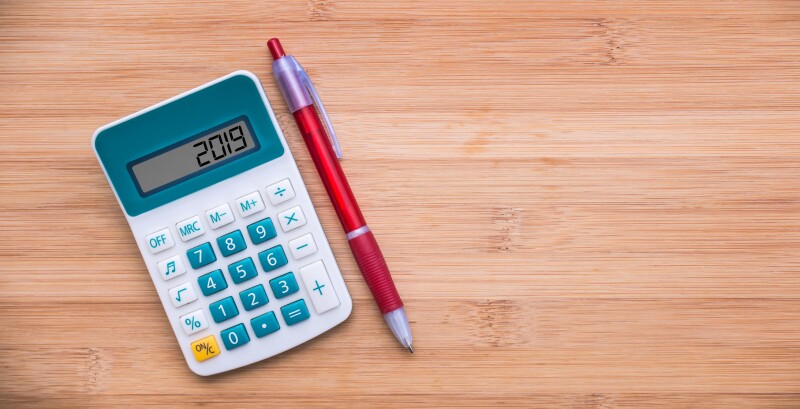 From assessing your 401(k) retirement plan to getting a head start on saving for your summer vacation, the beginning of the year can be a particularly good time to think about the state of your finances. Whatever your financial situation, it is helpful to take stock of where you're headed in the New Year.
Financial planners suggest these six ways to start fixing your finances in 2019.
1. Know where your money is going
Take the time now to create a spending plan or a 2019 budget so you can manage exactly how you will use your money in the upcoming year. Start this process by making a list of all your income alongside all your liabilities or expenses. Include every expense you have, from the smallest to the largest, and evaluate whether some of these periodic or recurring items can be eliminated. Don't leave anything out of your 2019 budget, even incidental things like the coffee and bagel you buy three mornings a week.
2. Plan to reduce or eliminate any credit card debt
Start thinking about how you can decrease any unsecured debt you have. There are several free debt calculators online (such as this one from the counseling firm Financial Finesse) that you can use to determine how long it could take to pay off any credit card debt you have accrued. Once you realize how long it would take to pay off a single card if you were paying only the monthly minimum, it might be an incentive to stop any unnecessary spending. There are a variety of ways to pay down and pay off credit card debt. Some experts advise working on the higher-interest cards first; others suggest paying the smaller balances first. Whichever way you proceed, be consistent until you have paid the full balance on each card, financial pros say.
3. Build or add to a three- to six-month emergency fund
Without a financial reserve, you are vulnerable to unexpected expenses such as medical emergencies, home or auto repairs, or loss of work. With a cushion, you will be better able to absorb any unforeseen expenses.
4. Fund your 401(k) plan
If you haven't already, start a habit of adding to your 401(k) plan, especially one that provides matching contributions from your employer. Your monthly contributions may not seem like much at first, but over time they can really add up.
If you aren't sure what your employer is currently offering by way of matching, now is an optimal time to find out.
5. Contribute to your health savings account (HSA) or flexible spending account (FSA)
Either type of account allows you to take advantage of pretax contributions for qualified medical expenses that your insurance doesn't cover. To qualify for an HSA, you must be covered under a high-deductible health plan and you cannot be enrolled in Medicare, according to the IRS. Amounts remaining in an HSA generally can be carried over to the following year. Check with your employer to be sure how your plan works.
6. Have the "money talk" with your spouse or partner
The beginning of the year can be a good time to check in about financial goals. Think about what you hope to do in the next year; then consider how you are going to pay for these goals.
Finally, talk with your partner so you both know each other's priorities and how you can reach them together, as well as achieve joint objectives such as travel or upgrading your vehicle.
Another benefit of this process is that if something unexpected were to happen to either of you, the other will know what the resources are and how to access them. Surprises in this area can be problematic, so share as much information as you can.
To read the full article visit https://www.aarp.org/money/budgeting-saving/info-2018/financial-advice-for-2019.html?intcmp=AE-MON-LVB-BB