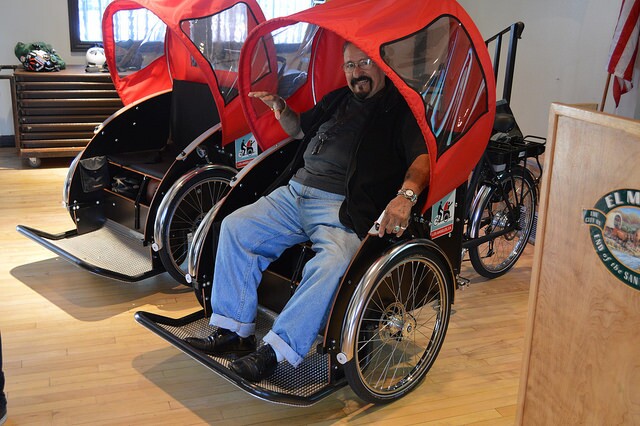 As part of our ongoing mission to promote livable and active communities, AARP in Los Angeles took part in the Cycling Without Age Event in El Monte on March 15 th. This event was organized by local bike coalition Bike San Gabriel Valley and Cycling Without Age, an organization which provides seniors with the opportunity to enjoy bike riding once again. A group of community members, bike enthusiasts, and city officials gathered to learn about innovative trishaw bikes (pictured above) and see them in action.

AARP's Luis Campillo addressed the audience and emphasized the importance of active transportation in healthy and livable communities for people of all ages. El Monte City Councilman Jerry Velasco spoke about the city's excitement over receiving bikes that will increase mobility options for those who are not otherwise unable to get out and ride a bike. Additionally, residents expressed enthusiasm for the program.

"It's actually a dream of mine, to be able to get back on a bike. I would like to take it down to the beach and ride on the pier," said Frank, a resident of El Monte. "I have a really bad knee, so these bikes would be the only way for me to ride again."

Cycling Without Age founder Ole Kassow traveled from Denmark to El Monte to present the bikes and help launch the San Gabriel Valley chapter of the organization. The event also included the screening of a film documenting Ole and others taking a group of seniors from Denmark to Norway using the trishaw bikes. Event attendees were also able to take the bikes out for a test ride around the city.

Remember, you have the right to feel the wind in your hair!

For more information please visit cyclingwithoutage.org/about or contact Andrew Yip at 626-203-9092, Andrew@BikeSGV.org. Check out more photos of the event on our Flickr page.

Stay connected with us by visiting aarp.org/losangeles. Find us on Facebook-AARP California or on Twitter-@AARPCA.