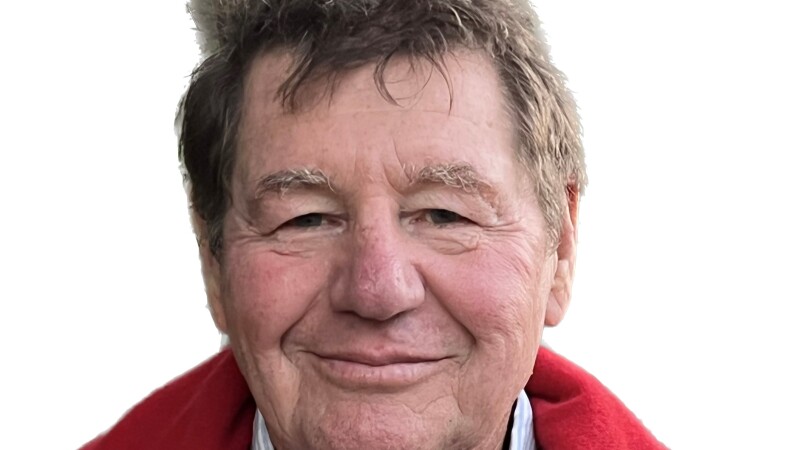 Mike Cussen of Paso Robles is the recipient of the 2022 AARP Andrus Award for Community Service in California. This is AARP's most prestigious volunteer award that recognizes a community-minded person age 50-plus who exemplifies the motto of AARP's founder, Dr. Ethel Percy Andrus, "To serve, not to be served." The award is given annually to one Californian in honor of their outstanding volunteer service.

Out of more than 50 volunteer leaders from across the state nominated for the 2022 Andrus Award, AARP Foundation Tax-Aide District Coordinator, Mike Cussen was selected and received the award on Monday, December 19, 2022.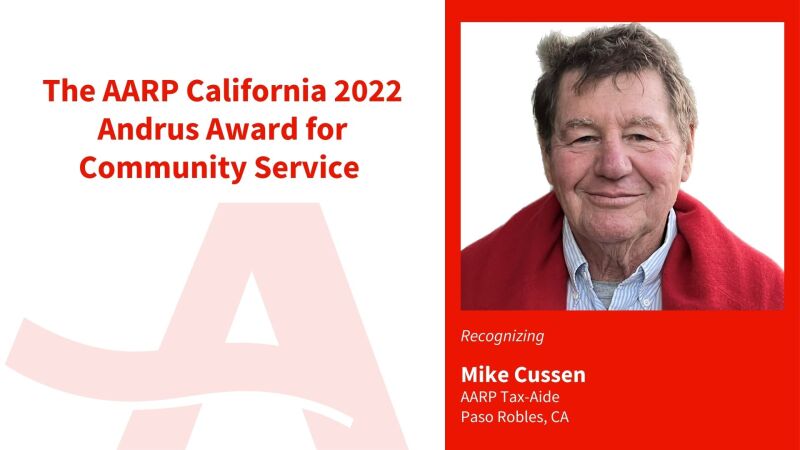 In the words of his nominator, "Mike's degree of dedication is unparalleled to any volunteer, in any capacity, that I have ever worked with. Mike has proven himself to be a uniquely positive and inspiring person. He's a rare individual that makes everyone around him feel easy and important. His volunteer work, including heading up the local AARP Foundation Tax-Aide program, demonstrates a selfless interest in bettering the lives of others. The bulk of tax work occurs November through May, during which Mike routinely puts in 50-plus hour weeks. Beyond this, he happily performed a number of other year-round obligations. Mike works with the volunteers to assure they receive proper training and certification, ensures work site locations are secured and ready for business, orders needed materials, serves as a conduit between national/regional leadership and local volunteers, recruits and retains volunteers, and conducts ongoing training as needed. Mike not only works virtually all hours the sites are open but put in countless additional time working with clients' after-hours, including visits to those that are housebound. This is in addition to the many hours required for training, scheduling, and administrative duties associated with his job responsibilities. While the dedication he demonstrates is remarkable, it's really more about the manner in which he does it."

The AARP Foundation Tax-Aide program offers free in-person tax preparation and assistance to low- and moderate-income individuals nationwide in coordination with the Internal Revenue Service (IRS). Mike and other volunteers make a difference in their communities by helping taxpayers, and their families, who might otherwise miss out on the tax credits and deductions they've earned.

As the award recipient, Mike received a $1,000 check from AARP that he has chosen to donate it to the Paso Robles Library Foundation Study Center.

The continued efforts made by Mike Cussen and AARP Foundation Tax-Aide volunteers across the country are an important reminder for us to give back to our community this holiday season and as we enter the new year. To learn about Tax-Aide volunteer opportunities, visit aarpfoundation.org/taxaide or call 1-888-OUR-AARP (1-888-687-2277). There are a variety of volunteer roles, including tax preparers, client facilitators, technical and management assistance and interpreters. Every level of experience is welcome and IRS training is provided.