By Roy Pankey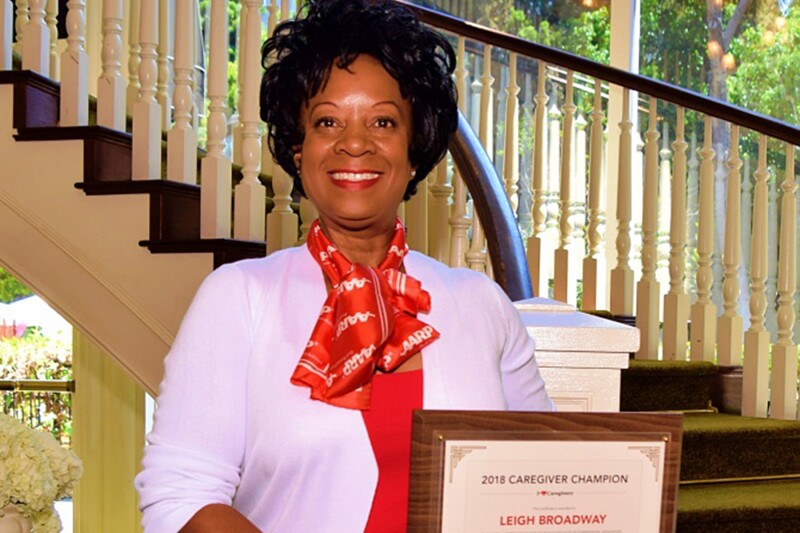 "AARP California values the partnership we have with volunteers who take what they know and share it with their community," said Antoine Cook, Associate State Director for Community. "Leigh is one of those individuals who has really spread the word about all the caregiving resources available through AARP. She is a true Caregiving Champion."

Broadway was nominated for the award by Cook and Nina Weiler, leads of the caregiving campaign, for her volunteer work and for conducting "Prepare to Care" presentations, AARP's family caregiving planning guide.

AARP California presented Broadway with a Caregiving Champions certificate that reads, "In grateful appreciation for your selfless acts of compassion, dedication, and devotion in helping California's caregivers receive information, training and resources to be better prepared to plan for their caregiving journey." Leigh has been an AARP member for four years and a volunteer since 2016.

"My favorite thing about being a volunteer with AARP is to be able to share information with folks who are now caregiving and really don't know where to go for information," said Broadway. "When I can provide knowledge and information and resources to help folks navigate through their caregiving with their loved ones that gives me a lot of joy."

Broadway did not have any caregiving information nor did she know where to go for resources when she started caring for her father, for whom she was a caregiver for 14 years.

"I had to learn on my feet," Broadway remembered. She said she did everything from taking her father to appointments to managing his medications to dealing with his insurance.

After her father fell and had to undergo surgery, Broadway had to leave work often. At the time, she did not know about any protections for caregivers against losing their jobs to care for loved ones and thought her only option was to use her vacation and sick days when she needed to take time off to care for him.

"That caused a lot of issues with being able to care for myself and work," she said.

Broadway believes it is important to share with others what she has learned from her own experience as a caregiver, especially now that she is 60 and is beginning to think about the possibility of needing a caregiver one day. She educates people on some of the key aspects of caregiving, including long-term care cost, housing cost, and rising prescription cost.

"It's close to home," she said. "I think it's important that I not only give back what I've learned, but it also helps me prepare for my retirement and longevity."

Broadway plans to continue volunteering as a district liaison and delivering Prepare to Care presentations for several years to come.

"It's a privilege to be able to share this information and knowledge and to help prepare the next generation so that they can navigate the process much more easily in the future," she said.