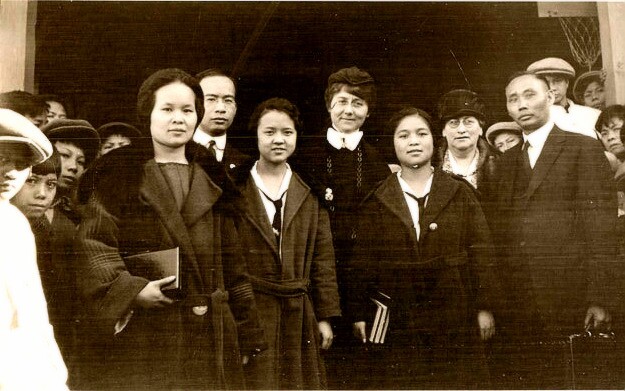 By Gil Asakawa

The West Coast's version of Ellis Island, where European immigrants were processed and welcomed to the United States, was Angel Island, a military fort in San Francisco Bay that was converted to serve as an immigration station. Most European immigrants – like the ones at Ellis Island – and travelers with the means to have a first- or second-class ticket were sent straight from incoming ships to San Francisco. But immigrants from places like Russia, Mexico and anywhere in Asia had to spend some time at Angel Island before they could continue their journey.

The Angel Island Immigration Station was opened in 1910 and closed in 1940, when a fire destroyed the station's administration building, after which processing of immigrants was moved back to San Francisco as it had been before 1910.

Although the infamous Chinese Exclusion Act was passed by Congress and signed into law in 1882, some Chinese kept coming to the US in the hopes of making money and starting new lives. The law allowed some exceptions, including for students, merchants and diplomats. It also allowed family members of already-arrived immigrants to travel to and from China. After a 1906 earthquake that destroyed government documents, Chinese began arriving as "paper sons" with false documents claiming they were related to resident Chinese in the US. Some Chinese bought false documentation as Filipinos because immigrants were allowed from the Philippines.

In his excellent book "The Rice Room," San Francisco radio personality and early Rolling Stone magazine editor Ben Fong-Torres tells the story of his father buying the name "Torres" and adding it to "Fong" to come to the US from the Philippines.

But even those who had legitimate documentation had to "check in" at Angel Island. Partly, this was so the immigrants could be given often demeaning health examinations -- but it was also designed to make entry to the United States plain difficult, in hopes of discouraging future immigrants.

Japanese immigrants usually had papers from their government, which had made agreements with the U.S. to send certain numbers of emigrants to America. This allowed them to be processed relatively quickly. Chinese immigrants had no such official patronage, and were detained and had to undergo interrogations whose purpose was to trip up "paper sons'" family stories. If an applicant's story didn't match family members, they could be deported back home. About a third of Chinese immigrants during this period were denied entry to the US.

Many Chinese immigrants endured long stays at Angel Island – from weeks even up to years of waiting. To pass the time, some of them carved poetry in Chinese characters on the walls of their cells. Authorities covered over the walls seven times between 1910 and 1940, but each time, the plaster fell off and the poetry was visible again. In 1964, San Francisco's Chinese community led an effort to make the Immigration Station a state landmark, and it is now a federal National Historic Landmark.

Angel Island is the second-largest island in San Francisco Bay, and has served several purposes in addition to immigration, including a way station for U.S. service members going to and from wars. It is now a California State Park with an amazing view of San Francisco. All visitors can enjoy Angel Island today, but for many Asian Americans, it hold a special significance as the place where their ancestors arrived in this country.