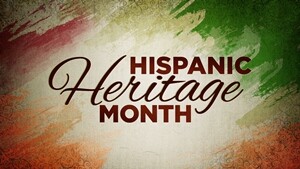 September marks Hispanic Heritage Month (from September 15 th to October 15 th) and we'll be sharing interesting facts about this month-long celebration every Wednesday until October 15th. We hope you will enjoy learning important information about Latino heritage.

Today, we begin with these six facts:





National Hispanic Heritage Month started as Hispanic Heritage Week in 1968 by President Lyndon Johnson. It was expanded to one month by President Ronald Reagan and enacted into law in 1988.

The countries of Guatemala, Honduras, El Salvador, Nicaragua, and Costa Rica celebrate their independence day on September 15th, followed by Mexico on the 16

th

and Chile on the 18th.

The U.S. Hispanic population currently stands at over 54.1 million, making it the nation's second-largest racial or ethnic group. Today, Hispanics make up 17% of the U.S. population, up from 5% in 1970.

People of Mexican origin account for two-thirds (34 million) of the nation's Latinos. Those of Puerto Rican origin are the next largest group at 4.9 million (with another 3.5 million residing on the island of Puerto Rico). There are five other Hispanic origin groups with more than 1 million people each: Cubans, Salvadorans, Dominicans, Guatemalans, and Colombians.

There is a lot of diversity among Latino origin groups in major metro areas. Mexicans make up 78% of Latinos in the Los Angeles area, but in the New York City region, Puerto Ricans (28%) and Dominicans (21%) are the largest groups. Meanwhile, Salvadorans (32%) are most numerous in the Washington, D.C., metro area, and Cubans (54%) are the largest group in Miami.

More than 35 million Latinos speak Spanish at home. About 38% say Spanish is their dominant language, compared with 25% who are English-dominant and 36% who are bilingual, according to the Pew Research Center's 2013 National Survey of Latinos.


We hope you will visit next week when we'll discuss historical Latino events.

Want to be the first to know about upcoming AARP events in your community? Sign up for our email list and join us on Facebook and Twitter to stay informed!