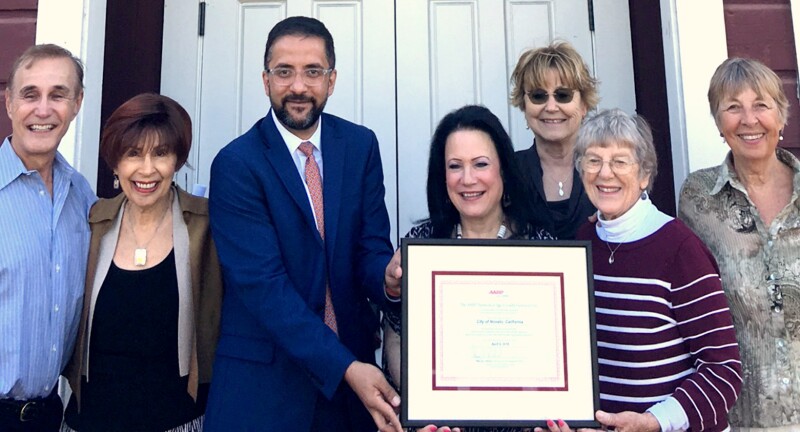 On Tuesday, June 6, AARP formally welcomed the City of Novato into AARP's Network of Age-Friendly Communities. AARP California Associate State Director of Community, Rafi Nazarians, presented the City of Novato with the official certificate of membership during the City Council's general session.

"From our youth to our seniors, Novato is committed to residents of all ages," said Novato Mayor Denise Athas. "Our City fosters initiatives that encourage our residents to live and thrive within our community. Age-Friendly communities are a win-win because communities unleashing the energies and contributions of younger, middle-aged and older adults create places that are better for us all. It takes advantage of the untapped potential of our most experienced citizens and finds new ways to engage all of our residents."

The City of Novato has implemented a number of programs and initiatives that support age-friendly and healthy communities, including classes at the Margaret Todd Senior Center, summer camps, athletic programs for youth and adults, and more.

AARP's Network of Age-Friendly Communities is an affiliate of the World Health Organization's Global Network of Age-Friendly Cities and Communities Program, an international effort launched in 2006 to help cities prepare for rapidly aging populations and the parallel trend of urbanization. The program has participating communities in more than 20 nations, as well as 10 affiliates representing more than 1,000 additional communities. California is home to 13 communities in AARP's Age Friendly Network, including: West Hollywood, Berkeley, Chula Vista, Fremont, Los Angeles, Los Angeles County, San Diego County, San Francisco, San Jose, Saratoga, Sonoma County, Sacramento and Novato.

"AARP is thrilled to have the City of Novato take action and join AARP's Network of Age-Friendly Communities," stated AARP California State Director, Nancy McPherson. "Novato has joined arms with communities around the world to implement innovative and thought strategies so that the community is livable for all ages that it serves. AARP looks forward to continuing age-friendly work with the City of Novato."

Members of AARP's Network of Age-Friendly Communities are part of a global network of communities that are committed to giving residents of all ages the opportunity to live rewarding, productive, and safe lives. Communities all over the country, as diverse as Boston, Honolulu, Bowling Green, and most recently the City of Novato, have committed to making improvements in the eight domains that influence the health and quality of life for residents of all ages. These domains are: outdoor spaces and buildings; transportation; housing; social participation; respect and social inclusion; civic participation and employment; communication and information; and community support & health services.

###

AARP is a nonprofit, nonpartisan organization, with a membership of nearly 38 million that helps people turn their goals and dreams into 'Real Possibilities' by changing the way America defines aging. With staffed offices in all 50 states, the District of Columbia, Puerto Rico, and the U.S. Virgin Islands, AARP works to strengthen communities and promote the issues that matter most to families such as healthcare security, financial security and personal fulfillment. AARP also advocates for individuals in the marketplace by selecting products and services of high quality and value to carry the AARP name. As a trusted source for news and information, AARP produces the world's largest circulation magazine, AARP The Magazine and AARP Bulletin. AARP does not endorse candidates for public office or make contributions to political campaigns or candidates. To learn more, visit www.aarp.org or follow @aarp and our CEO @JoAnn_Jenkins on Twitter.