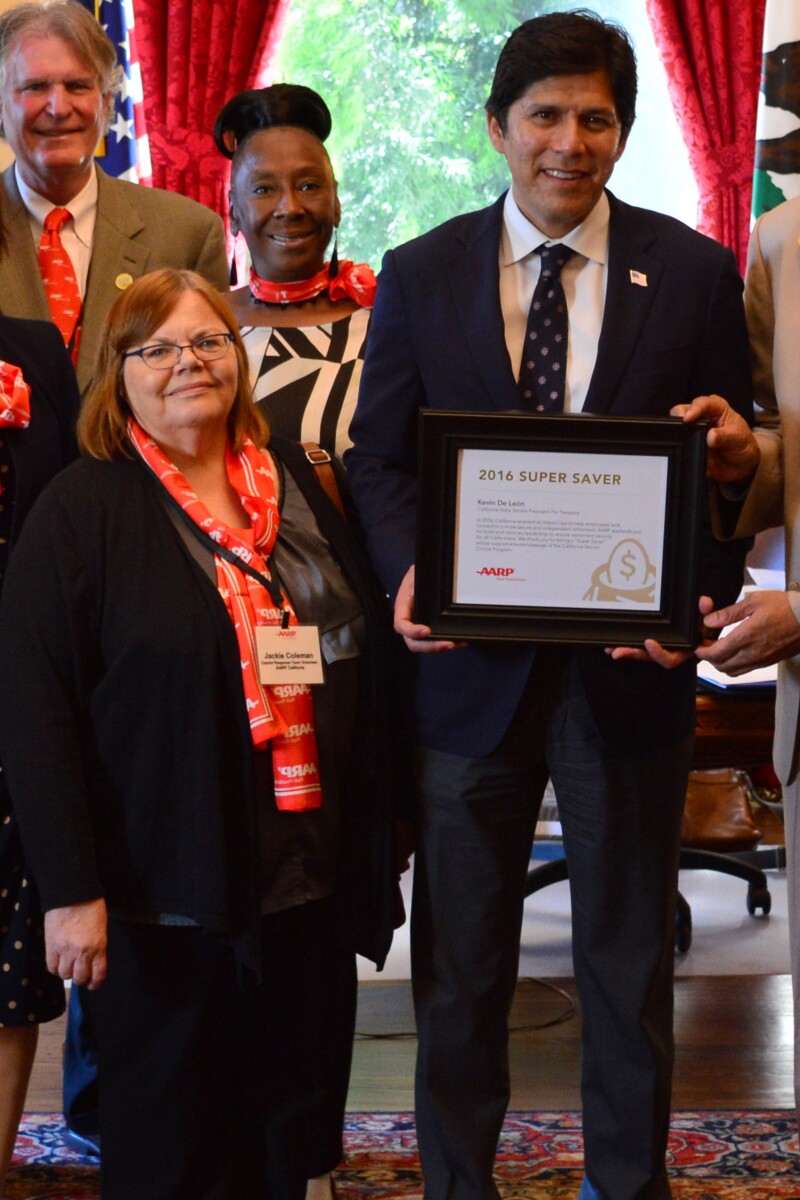 Diagnosed with dementia and without a job, volunteering for the issues and people she cares about the most has kept Jackie Coleman happier than ever before. Shortly after Coleman lost her dream job as a disability rights lawyer due to her diagnosis, she decided to become an AARP member and soon after that a volunteer with the AARP California Capitol Response Team, "where I make sure that we get approved the right laws that benefit those who are 50 years of age and over." Her passion for advocacy also motivated her to become a volunteer with the Alzheimer's Association.
"I was an excellent attorney," recalled the 63-year-old Rancho Cordova, Calif., resident who loved her job and was proud of the work she did. But a little over a year ago, she started to forget appointments and details from meeting and began to depend heavily on her secretary. Then she started making mistakes. Ultimately, one got her fired.
Two weeks later, she got a diagnosis: early onset Alzheimer's disease.
Coleman is still independent, and has made lifestyle changes -like taking the dog out for a walk for about an hour a day, going into her pool every day during the summer, and speaking frequently with friends, including her son and his wife "because they support me as well."
She now eats healthier, exercises more frequently, and engages in activities that stimulate her brain, like volunteering for AARP and the Alzheimer's Association. To stay sharp, she works on puzzles and sticks reminder notes in spots around the house.
"I so enjoy being a volunteer especially since I am not working," Jackie says.
"The last five years I noticed that my brain was not what it used to be and it just got much worse last year. I told my doctor that I felt that my brain was not feeling right, but because I used to be brilliant and had an IQ of 150, she said that I was just fine, so I didn't have my brain tested until last year. This is normal. Many other people have a similar experience," Jackie said.
Staying busy has helped Jackie stay focused and stimulated. Being a caregiver to her roommate, Joyce, with whom she has been living for about three years "helps support my brain". Thanks to California's In-Home Supportive Service (IHSS) program, Jackie is getting paid to help take care of Joyce. She helps Joy with making meals, getting dressed, and bathing among other things. They are a good team, and they often complement each other.
"Joyce also noticed that I complained about my brain even before I was diagnosed. When I forget about something, she also reminds me."
As the New Year begins, Jackie is most grateful for two things: "I got my first Social Security payment in December of last year and I got Medi-Cal too, which started the first of this year --and yesterday I got to see my doctor." She told me 'Jackie you're so much happier and doing better than when you were so depressed and worked.' And you know what? I am not so depressed. I am accepting myself more."
Jackie became involved with the Alzheimer's Association after she got her diagnosis. She attends a support group there on Thursday mornings and is also working on helping organize their annual fundraising walk, which this year will fall on Sept 29 th.
"The testing and research that the Alzheimer's Association is doing wouldn't be possible without the funds they get from this fundraising walk. We need as much research as our funds can allow us to do," she adds.
People cope with dementia in different ways. Jackie has found that supporting others has, in turn, helped her feel better. Besides being a caregiver for her roommate, Jackie helps her neighbor, who has also been diagnosed with dementia.
"We get together and we help each other. She never told me she has dementia, so I never told her she has it. Everything I suggest to her she does, like going to this Alzheimer's' walk, because it helps her."
One of the men in Jackie's support group has been writing about his whole life for his kids and grandchildren and he is suggesting to the rest of the group to start doing the same. "That is one of the things I would like to do this year," said Jackie.