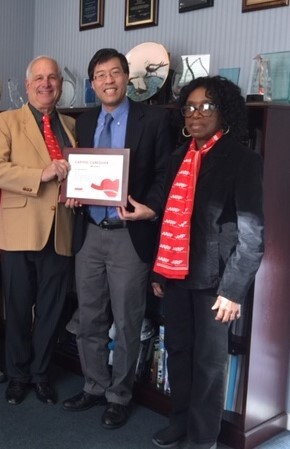 In honor of National Volunteer Week, we are sharing stories about individuals across California who help us amplify our work each and every day. Today we'd like to introduce you to Jacqueline Inniss, a dedicated volunteer who is an active member of our Capitol Response Team, a group of dedicated volunteers who advocate for the 50+ in Sacramento.
AARP: Tell us a bit about yourself that you would like others to know.
Innis: I like to work out at the gym during my spare time. I also walk a couple of days a week. Exercise keeps me motivated mentally, physically and spiritually.
AARP: What might someone be surprised to know about you?
Innis: Someone maybe surprised to know that I do the 5k run/walk annually.
AARP: How did you become involved with AARP or what made you want to become a volunteer?
Innis: I was the caregiver for my Mom for many years. After she was placed in a skilled facility l decided that I would start volunteering. I like helping people especially older people. I became a volunteer because doing so gives me a feeling of purpose.
AARP: What has surprised you most about volunteering with AARP?
Mejía-Diez: The thing that has surprised me about AARP is that I am constantly learning new things and meeting new people.
AARP: What would you tell someone who is thinking about becoming an AARP volunteer?
Mejía-Diez: I would tell someone who is thinking of becoming an AARP volunteer that they should do so. Becoming a volunteer is very rewarding.
Interested in volunteering with us? Visit http://spr.ly/6181EjO7x