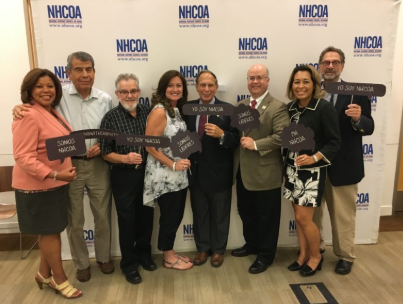 Español Los Angeles, CA. August 24, 2018. - The California Hospital and Family Caregiver Law, Empowering the Next Generation of Caregivers, Paid Sick Law, All of Us Research Program, the status of LGBT Older Adults community and Alzheimer's awareness, are just a few key issues that will be addressed during the National Hispanic Council on Aging's (NHCOA) Town Hall: Building Bridges to Engage Diverse Communities at The California Endowment on August 30, 2018.
WHEN: Thursday, August 30, 2018– 9:00 am to 1:00 pm.
WHERE: The California Endowment - 1000 N. Alameda Street - Los Angeles, CA 90012
RSVP: This event is a free of charge event. To register or for more information, contact: events@nhcoa.org
This linguistically and culturally safe space will bring together more than 120 people, including older adults, elected officials, social advocates, and health services providers. Caregiving, public health, wellness, and the importance of civic participation to empowerment Hispanic community are the focus of this convening.
"Building Bridges to Engage Diverse Communities is the conferences' slogan for this year. With this in mind, NHCOA's focus this year highlights the impact of civic participation, local empowerment of Hispanic communities, and support of caregivers as a way to ensure our older adults can enjoy their golden years in good health, with dignity and economic security", said Dr. Yanira Cruz, President and CEO of the National Hispanic Council on Aging (NHCOA)
All solutions and recommendations discussed during "NHCOA's Town Hall: Building Bridges to Engage Diverse Communities" will be presented on a national level through NHCOA's, "State of Hispanic Older Adults Report," a publication that is released annually on Capitol Hill during the fall.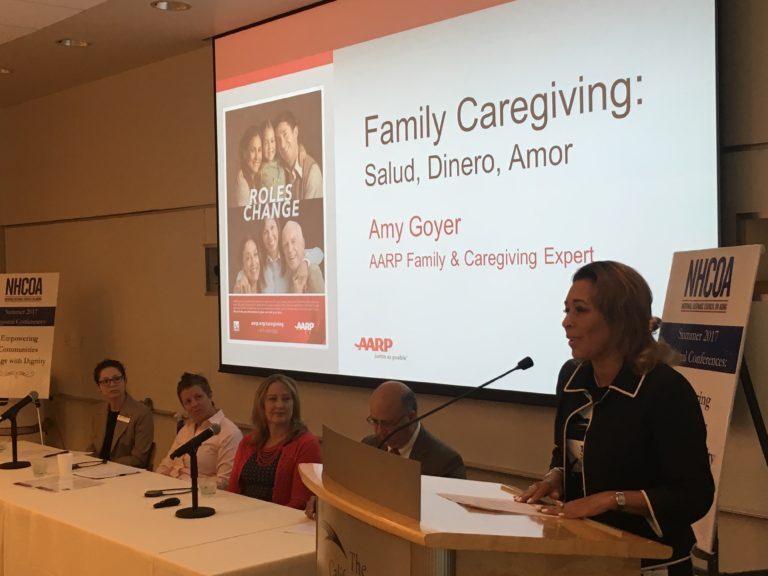 "Taking care of those in need is one of the most important roles we will all play and that is why AARP is pleased to participate in NHCOA's Town Hall. Caregiving advocacy and outreach are priorities for AARP California who works to assist the more than 4.4 million family caregivers in the state. We look forward to hearing from other leading organizations about how they are also helping caregivers so their loved ones can live independently at home — where they want to be," said Nancy McPherson, AARP CA State Director.
About the National Hispanic Council on Aging
The National Hispanic Council on Aging (NHCOA, pronounced NAH-COE-AH) is the leading national organization working to improve the lives of Hispanic older adults, their families, and their caregivers. Headquartered in Washington, DC, NHCOA has been a strong voice dedicated to promoting, educating, and advocating for research, policy, and practice in the areas of economic security, health, and housing for Hispanic older adults, families, and caregivers for more than 30 years.
About AARP
AARP is the nation's largest nonprofit, nonpartisan organization dedicated to empowering Americans 50 and older to choose how they live as they age. With nearly 38 million members and offices in every state, the District of Columbia, Puerto Rico, and the U.S. Virgin Islands, AARP works to strengthen communities and advocate for what matters most to families with a focus on health security, financial stability and personal fulfillment. AARP also works for individuals in the marketplace by sparking new solutions and allowing carefully chosen, high-quality products and services to carry the AARP name. As a trusted source for news and information, AARP produces the nation's largest circulation publications, AARP The Magazine and AARP Bulletin. To learn more, visit www.aarp.org or follow @AARP and @AARPadvocates on social media.
###