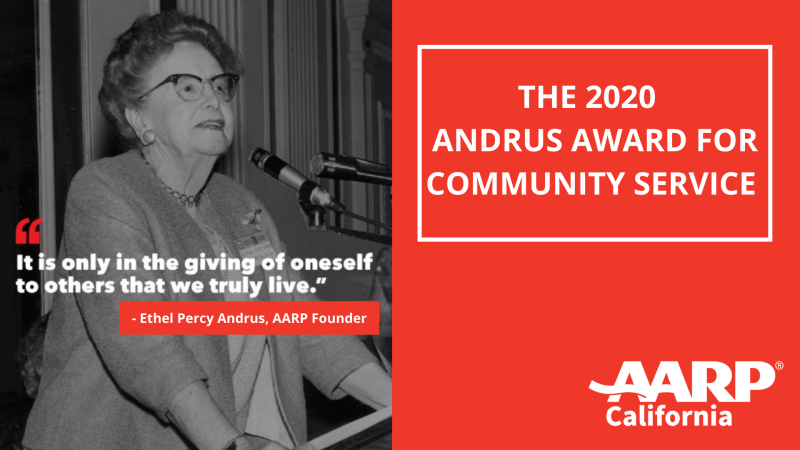 Stuart Harvey of San Diego, California is the recipient of the 2020 AARP California Andrus Award for Community Service – AARP's most prestigious volunteer award. The award recognizes outstanding community service and symbolizes that individuals have the power and ability to make a difference in the lives of others. The award is given annually to one California volunteer.

Out of more than 60 volunteer leaders nominated for the 2020 Andrus Award in California, Stuart Harvey with Volunteers in Medicine – San Diego will receive the award for his extraordinary effort to help create a vibrant and healthy San Diego for ALL residents.

Harvey received the award LIVE during a virtual presentation on Tuesday, November 24th. All individuals interested in celebrating and sharing their appreciation with Harvey were encouraged to participate. Watch the virtual presentation below.
Harvey is a founding member of the Board of Trustees for Volunteers in Medicine ‐ San Diego and currently serves as the Chair of the Board. His drive to help the less fortunate led him to found the Volunteers in Medicine clinic, a non-profit clinic in El Cajon that provides healthcare for uninsured individuals, saving the lives of hundreds of patients and providing care for an additional 3,000 patients a year. The clinic, located on the property of the Chapel of the Valley United Methodist Church where Stuart has volunteered for over 40-years, functions with over 100 volunteers, ranging from Medical Providers, Registered Nurses and support staff who give their time, energy and talent to serve the uninsured.

Stuart has been instrumental in getting donations, fundraising and bringing other volunteers on board to help with the Church and clinic. His volunteer service inspires others to make a difference in the lives of total strangers who need someone to care about their wellbeing.

"Not only does he serve on the Board, he is the go to volunteer for everything. A retired civil engineer, he utilizes all his areas of expertise to repair, put together any equipment, help with patients and is instrumental in directing fundraising for the clinic," stated Maureen Hartin, CEO of Volunteers in Medicine – San Diego and award nominator of Stuart Harvey. "For the past ten years, I have been the CEO of Volunteers in Medicine. There is nothing that you ask Stu to do that he does not accomplish. Whether it is the annual spring garden clinic for our patient and community garden or power washing our building ‐ he is there for us."

As the award recipient, Stuart has chosen to donate his $1,000 check from AARP to Volunteers in Medicine – San Diego.

The continued efforts made by Volunteers in Medicine – San Diego to help the community is an important reminder for us to give thanks to those giving their time and experience to support our health, especially during the pandemic.