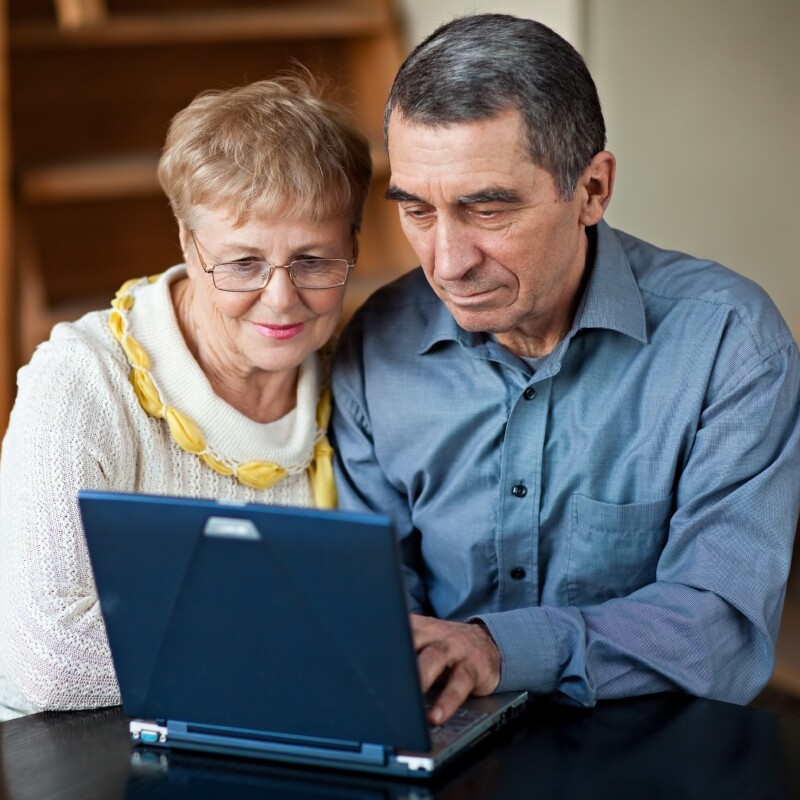 By Anita Creamer
For many of us it's hard to imagine a world with no smartphones or laptops, no instant Internet access, no social media, no face-to-face Skype chats. Yet for many older Californians, these are still unfamiliar – and sometimes intimidating – technologies, and this can lead to social isolation, depression, and even worsen medical conditions.
"Technology is being absorbed into every facet of our lives, but many adults aged 65 and older still don't even have email," said Ellen Schmeding, San Diego County's Aging and Independence Services director. "These people risk being isolated in terms of communications with family, friends -- and even their own doctor.
An "age-friendly" community, as envisioned by AARP and the World Health Organization, "enables people of all ages to actively participate" in the life of that community; and that requires ensuring that older citizens are keeping pace with technological change, and that they have affordable and easy online access. In an age-friendly community, young adults who rely on smartphones to navigate the Internet can more easily search for jobs, information, and entertainment, while older adults can find new ways to stay vitally connected to the world around them.
The good news is that more and more people 65 and older are getting connected every day. According to a 2014 Pew Research Center survey on older adults and their use of technology, 60 percent of older adults go online regularly, and nearly 80 percent have cell phones. But there's a also a clear discrepancy when it comes to socioeconomic and demographic status: Those most likely to be computer-literate tend to be the affluent and well-educated; and people 75 and older are far less likely to have any digital access at all.
More than ever, being "unconnected" means being left behind.
On the bright side, new technology offers tremendous promise to improve people's lives.
"Technology is advancing so quickly," said David Lindeman, Director of the Center for Technology and Aging. "It's faster, smaller, and changing all the time. It will be quickly embedded in everything we use. Even if you're not tech savvy, technology will be part of everything. You'll have smarter transportation and a smarter environment to support people living at home for a longer period of time. We'll [even] see virtual seniors centers."
To embrace this bright future, however, broader online access is essential. One program designed to help is Comcast's Internet Essentials program, which provides low-cost Internet service to 1,600 of San Francisco's estimated 10,000 unwired older adults, with plans to expand into other cities in the future.
For years senior centers have offered computer classes, but the curricula have traditionally focused on programs such as Internet Explorer, Microsoft Word and Excel. But this is changing, with newer projects around the state looking at how older adults can use mobile and online technology like smart phones, Skype, and Facebook to improve their day-to-day lives by keeping them connected to loved ones and to their peers.
In San Francisco, a nonprofit called SF Connected helps the California Department of Aging train 500 older adults each year through free instruction in six languages. Classes range from setting up an email account to how to use Facebook and Skype.
"We're trying to get a sense of their interests," said Community Technology Network Executive Director Kami Griffiths. "What's relevant to older adults? What we're finding is travel, education, and entertainment – but one of their biggest interests is staying connected to family. And I think getting news and information in their native language is a big draw, especially in San Francisco, where we have a huge population of older immigrants."
In Los Angeles, AARP's TEK Academy premiered early in 2015 to provide technology classes for people 50 and older. So far, TEK has held more than 30 free, two-hour workshops covering the use of tablets, smartphones, and social media, as well as online safety. Classes are held in malls and community centers in the Los Angeles area, and AARP has plans to begin holding TEK classes in the Bay Area by the end of 2015.
"We find that one of the things preventing people from learning about technology is that they find it intimidating," said Strategy Maloma, AARP's TEK coordinator for California. "[But] you don't have to learn everything. You should focus on what helps you get more of what you want out of life."
An example of a program that takes this advice to heart is San Diego's forward-thinking OASIS program, which offers instruction not only on smartphones, tablets, and social media -- but also on researching genealogy, making your own cookbook, and designing your own holiday greeting cards. In early November, OASIS hosted "Get Connected," the region's largest tech fair for people 50 and older, which included sessions on drones, social robotics, and the role of virtual reality in preventing cognitive decline.
OASIS is also one of the sponsors of the Tech Ambassadors program, a year-old project that pairs older adults with peer counselors to hone their technology skills.
"The technology has changed, but our commitment to teaching technology from a basic level to advanced technology has never waned," said San Diego OASIS's executive director Simona Valanciute.
With more programs like AARP TEK and OASIS cropping up in communities statewide, it's becoming possible to envision a day when Californians of all ages utilize technology on a daily basis to help them stay connected, stay healthy, and stay sharp – in short, to live their "best lives."

###