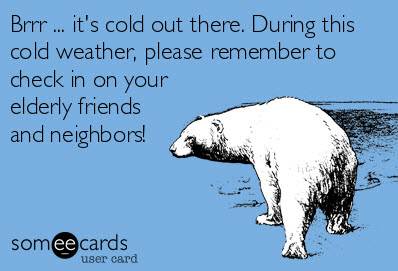 Unless you're on the South Shore or Cape Cod, you didn't get much snow during this latest winter storm. But the cold weather with dangerous wind chills is still a concern for elderly Massachusetts residents, especially those who are disabled and/or isolated. Please check in on these folks in your area, and use these resources if you find someone who needs help:





WHO TO CALL FOR HELP

For emergencies, call 9-1-1.
For non-emergency storm-related questions, call 2-1-1.
For questions or safety concerns about utilities, call your providers of gas, oil, electricity, land-line telephone service, etc. Many have recorded storm-related updates on storm damage and power outages on their main numbers.


OTHER SENIOR-RELATED CONCERNS

For any other senior-related concerns, visit the website of 800ageinfo.com or call the agency at (800) 243-4636 (800-AGE-INFO), TDD/TTY: (800) 872-0166; and contact the Massachusetts Executive Office of Elder Affairs, or call the EOEA offices directly at 1-617-727-7750.