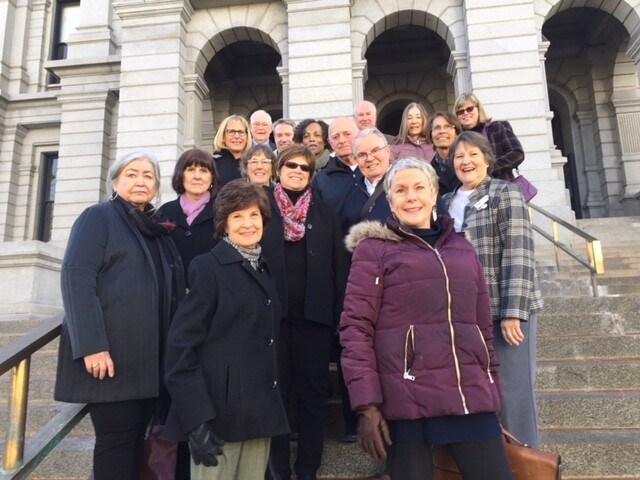 AARP Colorado is pleased to report its 2018 legislative activities. All bills referenced below were signed by Gov. John Hickenlooper unless otherwise noted. Visit our bill list for more information: http://coloradocapitolwatch.com/bill-analysis/4714/2018/0/.



AARP's involvement in reforms to Colorado Public Employees Retirement Plan

Bill: Senate Bill 18-200. Sponsors: Sens. Kevin Priola and Jack Tate and Reps. Dan Pabon and K.C. Becker. Status: The bill passed on the final day of the legislative session and was signed into law by Gov. John Hickenlooper.

Description: Some of the key provisions of the bill in its final form include: PERA received an annual direct distribution from the state budget of $225 million. Employers' contributions will increase by .25 percent beginning July 1, 2019. There will be a phased-in increase of employee contributions for most members by an additional 2 percent, reaching a total of 10 percent of pay by 2021. The Cost of Living Adjustment (COLA) will be suspended for 2018 and 2019 and there will be a cap of the annual increase of 1.5 percent, as well as an increase in the waiting period from one to three years. For new members hired on or after January 1, 2019, there will be expanded access to the PERA Defined Contribution (DC) Plan for the Local Government Division, and for classified college and university employees.

AARP's position: We supported passing legislation that would make PERA solvent, but we opposed the DC plan and expressed concerns about the reduction in the COLA.

What's next: We shall see how the new bill is received by PERA members and retirees.



AARP opposed legislation that would impose a Medicaid work requirement

Bill: Senate Bill 18-214. Sponsors: Sen. Larry Crowder and Rep. Susan Beckman. Status: Killed on its first hearing in the Senate Health and Human Services Committee.

Description: Senate Bill 18-214 would have advanced a false narrative about Coloradans living in poverty. Work requirements rest on the biased assumption that our neighbors who face the greatest barriers to secure employment will work only if they're forced to do so. In reality, Coloradans living below the poverty line work hard to support themselves and their families, often employed in multiple jobs with unpredictable hours, earning wages that are insufficient to put food on the table, cover rent and utilities, and pay for doctor's visits without publically-funded support. More than three out of four households on Medicaid have at least one person working, but don't make enough to purchase their own insurance. The majority of these working families say that Medicaid is critical support that allows them to keep working.

AARP's position: AARP strongly opposed SB 18-214

What's next: We will continue to oppose unnecessary barriers to health coverage in Colorado.



We continue to support legislation that would give all Coloradans the ability to create work place savings plans when the employer does not offer one

Bill: House Bill 18- 1298. Sponsors: Reps. Brittany Pettersen and Jeff Bridges and Sens. Nancy Todd and Kerry Donovan. Status: The bill passed the Colorado House, but died in the Senate State Affairs Committee.

Description: Giving workers the opportunity to save for retirement is an urgent problem facing Colorado. Nearly half of Colorado workers ages 25-64 don't have retirement savings plans at work. Eight in 10 Coloradans working in small businesses have no workplace retirement plan. Eighty-two percent of Coloradans agree that the nation faces a retirement crisis and 78 percent think it is getting harder to prepare for retirement. If retirees had boosted their savings by just 10 percent, taxpayers could have spent $194 million less to support them in later years.

AARP's position: Strongly Support

What's next: AARP will ask the candidates where they stand on this important issue in the upcoming election and hope the bill passes next year.



Victory in the long bill (Budget bill) increased funding for the services to keep older adults in their homes

Bill: House Bill 18-1322. Sponsors: Rep. Millie Hamner and Sen. Kent Lambert. Status: Signed into law by Gov. Hickenlooper.

Description: $4 million in additional funds for the older Colorado program.

AARP's position: AARP along with coalition partners in aging advocacy supported this increase.

What's next: AARP to continue to advocate for increased funding for services and support that help keep older adults in their communities.



AARP killed a costly Xcel bill, avoiding new transmission lines

Bill: House Bill 18-1345. Sponsors: Reps. Jennifer Arndt and Chris Hansen and Sens. Don Coram and Dominick Moreno. Status: Killed in the House Energy and Transportation Committee.

Description: The bill, promoted by Xcel, would have unfairly allowed the company to monopolize the building of new transmission lines and could have raised costs to consumers.

AARP's position: Strongly Opposed

What's next: AARP will continue to fight affordable rates on behalf of consumers.



Other bills worth noting that AARP supported:

Bill: House Bill 18-1149. Sponsors: Reps. Chris Kennedy and Sen. Tim Neville. Status: The bill passed the House but was killed in the Senate, Business Committee.

Description: The bill would have given consumers a voice on insurance issues at the Division of Insurance.

AARP's position: Strongly support.

What's next: We will continue to advocate for a consumer voice at the Division of Insurance.

Bill: House Bill 18-1256. Sponsors: Reps. Crisanta Duran and Leslie Herod and Sen. Bob Gardner. Status: An amended bill that changed the makeup of the commission passed both chambers and was signed by Gov. Hickenlooper.

Description: The Bill reauthorizes the Civil Rights Commission and requires the seven-member board to have no more than four persons from the same party but at least three members from the business community. There was concern over the fate of the commission at the beginning of the legislative session as there was a vote in the Joint Budget Committee to cut the funding for the office. AARP opposed ending the office and testified in both the Senate and House for its continuance. We were pleased to see a compromise reached and the office continue.

AARP's position: Strongly support.

What's next: We will be interested to see how the new board makeup will serve victims of civil rights abuses.



Outside of the legislature, we had some wins in keeping energy affordable

AARP thanked Public Service Company of Colorado (Xcel) for listening to our concerns about Xcel's plan to pursue membership in the Little Rock, Arkansas-based grid operator Southwest Power Pool (SPP). Last year, AARP learned that Xcel, Black Hills and others were considering joining the Little Rock SPP, which would've turned over much of the regulatory authority to the Federal Energy Regulatory Commission (FERC). AARP's concerns were that there could have been additional costs to consumers, including the possibility that Colorado ratepayers would have to foot the bill for upgrades to the grid in other states. In addition, AARP questioned Colorado's connectivity to the far-away eastern interconnection and lamented the loss of state jurisdiction.

What's next: AARP now urges Xcel to consider whether the Front Range even needs a Regional Transmission Organization (RTO) regulated by the Federal Energy Regulatory Commission. AARP suggests that use of the Peak Reliability control center in Loveland be kept instead of moving grid reliability operations out of state.



­ AARP on Tour: Join AARP Colorado staff and volunteers to discuss AARP legislative priorities. Good conversation and light refreshments guaranteed. You may register by calling 877-926-8300. All forums are free and open to the public:

Friday, September 7, 2018, 1-2:30 p.m.

Montrose Senior Center, 1800 Pavilion Drive, Montrose CO 81401.

Tuesday, September 25, 2018, 1 – 2:30 p.m

Aurora Center for Active Adults, 30 Del Mar Cir, Aurora CO 80011

Wednesday, September 26, 2018, 1-2:30 p.m.

Senior Resource Development Agency (SRDA), 230 N. Union Ave, Pueblo CO 81003