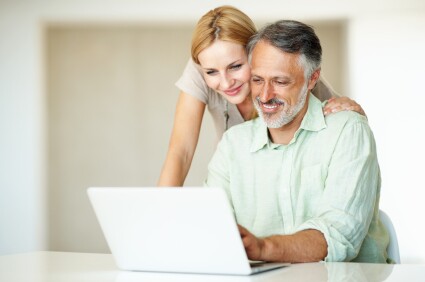 Check out our latest archived webinars.
Does Parkinson's disease affect thinking and memory?
Tuesday, August 24, 2016
Does Parkinson's disease affect thinking and memory? What is dementia? I'm having problems with my memory, do I have dementia? Are there any treatments for dementia? These are some of the questions that Dr. Kluger will address in this webinar on Parkinson's disease and cognitive issues. Cognitive problems are common in Parkinson's disease and the possibility of developing dementia is one of the biggest fears facing many patients and their families. Dr. Kluger will also go over some tips and suggestions for persons who have already been diagnosed with dementia.
Want to be your own boss? Discover franchising options for the 50 plus
Wednesday, August 10, 2016
Want to be your own boss, but not willing to take on the risk of starting your own business from scratch? Franchising, the business model that involves one business owner licensing trademarks and methods to an independent entrepreneur, can be a great alternative, especially for those 50+.
AARP, SBA's District Offices of Region VIII and franchise consultants and SCORE mentors from both FranNet and FranChoice are here to help.
Please join us for a free, hour-long webinar on August 10th that will cover and answer your questions about the following:
• The different types of franchise options;
• How to find the right franchise for you;
• Financial implications and assistance associated with buying a franchise; and
• The benefits and responsibilities of owning a franchise.
This webinar is part of AARP and SBA's "Summer of Encore Mentoring" educational events targeting entrepreneurs over the age of 50 who want to start or grow their small business. For more information about the SBA and AARP's Summer of Encore Mentoring, please visit www.sba.gov/encorementoring or www.aarp.org/startabusiness.
The Science and Practice of LSVT LOUD®: Speech Treatment for Parkinson Disease
Wednesday, July 13, 2016
LSVT LOUD is the first speech treatment with level 1 evidence and established efficacy for treating voice and speech disorders in people with Parkinson disease (PD). LSVT LOUD has application to other neurological disorders as well. The LSVT Programs have been developed and scientifically researched over the past 25 years with funding from the National Institutes of Health. LSVT LOUD outcome data have been published in a series of refereed articles in speech, otolaryngology and neurology journals. LSVT LOUD is a standardized treatment protocol that is customized to the unique communication goals of each person across a range of disease severity and communication impairments.
This presentation will: 1) briefly explain recent advances in neuroscience that have had a positive impact on the field of rehabilitation for individuals with PD, 2) discuss the development, data, and key treatment concepts of the speech treatment LSVT LOUD, 3) outline future directions and alternative modes of treatment delivery using technology, and 4) briefly describe data and key treatment concepts of the efficacious physical and occupational therapy treatment LSVT BIG, which was developed based on principles of LSVT LOUD.
Friday, April 15, 2016
The definition of autoimmunity and prevalence of autoimmune rheumatic disease in women -clinical manifestations of these diseases, diagnosis and treatment -management of autoimmune rheumatic diseases
2016 AARP Colorado Legislative Update
Tuesday, February 09, 2016
Our advocacy includes communicating the outcome of the 2016 session with your constituents. In anticipation of the upcoming session, we want to introduce you to our priorities.
We will support efforts to increase the number of working Coloradans enrolled in retirement plans. We also intend to oppose legislation that would threaten solvency of the Public Employees Retirement Association (PERA).
We support giving the state more budget flexibility, and we look forward to a possible ballot measure in November, as well as legislation that would exempt fees paid by hospital providers from the state's revenue collections.
We will continue to monitor and engage as appropriate on legislation that impacts the state's health insurance exchange or other health related bills, as over half of our Colorado members are not Medicare eligible and may rely on the exchange for affordable health coverage.
Finally, we will be watching for legislation that impacts Colorado utility-rate payers, as utilities are pocketbook issues for our members.
Tips for Caregivers - Finding the Right Fit
Tuesday, December 14, 2015
Caring for a family member can be stressful because of all the complex issues you must navigate and the important decisions you must make. For example, how do you find the right fit when selecting healthcare providers, nursing homes, or life institutions? This webinar, presented by the Colorado Department of Regulatory Agencies, will walk you through tools available to caregivers, questions to ask before hiring a healthcare provider, and what to look for when selecting a lifecare institution.
What the Affordable Care Act Means for Me
Thursday, December 3, 2015
In this webinar, find out the basics of the Affordable Care Act and the changes it has ushered in. Learn how increased competition for health insurance benefits you, as well as other improvements and challenges for consumers. Presented by the Colorado Division of Insurance, part of the Department of Regulatory Agencies, this webinar will also share resources that can help you choose your healthcare providers.
On Medicare?  The State Health Insurance Assistance Program (SHIP) may be of help
Tuesday, November 23, 2015
Join us for an informative seminar on the State Health Insurance Assistance Program (SHIP). The program helps people understand and use Medicare and the Senior Medicare Patrol (SMP) program. The SMP assists Medicare beneficiaries (and family and caregivers) to prevent, identify and report healthcare fraud, errors and abuse.
Seniors and Livable Communities Bill of Rights
Monday, November 22, 2015
Living in a common interest community affords many with the joy of independent living, yet can also present some unique challenges as we age in these communities. Join the Division of Real Estate, part of the Colorado Department of Regulatory Agencies, on effectively navigating your HOA. Understand how HOAs are governed, applicable laws and how to handle disputes. This webinar will also address common consumer issues that impact seniors living independently and tips to stay protected, such as best practices for working with moving companies; resources to verify the license of professionals coming into your home; safe transportation options; issues related to insurance; residential utilities, and more.
Summer of ENCORE Mentoring Regional Webinar
Monday, August 17, 2015
AARP, the Small Business Administration (SBA), and Life Reimagined invite you to a live webinar that will help you put your small business plans into action.
You will get advice from experts and hear about their experiences, while learning about programs and resources available through AARP, SBA, Life Reimagined, and a network of small business resource organizations. From writing your business plan to seeking start-up capital, this is information you can use.
If you've ever dreamed about being your own boss, now is your chance to make that dream come true!
Respite Care Resources in Colorado
Thursday, July 16, 2015
Family caregiving is one of the most valuable and meaningful roles we face, but also one of the most challenging. Family caregivers need access to resources and supports like respite care. The program provides information on how the Colorado Respite Coalition is working to support family caregivers, and how to find caregiving resources in your community.
Presenters: Easter Seals Colorado and the Colorado Respite Coalition
The Basics: Memory Loss, Dementia & Alzheimer's
Tuesday, June 09, 2015
Alzheimer's disease is not a normal part of aging. If you or someone you know is affected by Alzheimer's disease or dementia, it's time to learn the facts. This program provides information on detection, possible causes and risk factors, stages of the disease, treatment, and much more.
The webinar is presented by the Alzheimer's Association of Colorado.
Managing Money and Planning for Retirement
Wednesday, May 13, 2015
AARP believes age and experience can expand your possibilities. We create and connect you to unique tools and programs, that could help save you money, and tackle the issues that matter most to you, your family and your community. Currently, one-in-six Coloradans are age 60 or older and by 2035 that proportion will have expanded to one-in-four. AARP wants to help you to ensure that you start building your retirement as soon as possible and if you are already retired, we want you to get the information you need to know about your Social Security benefits, pensions and other financial vehicles to help you are on the road to success. It is important that you are armed with the latest tips and resources for you to consider to be more confident in your financial choices. During this free one-hour webinar, AARP will share tips and strategies on how to achieve your short-term and long-term financial goals.
Coping with a Chronic Illness: Tools for Maintaining Your Mental Well-being
Wednesday, May 06, 2015
Are you diagnosed with a chronic illness? According to the Center for Disease Control, about half of all adults - 117 million people - have one or more chronic health conditions. Chronic health conditions include arthritis, diabetes, fibromyalgia, cancer, and heart disease. Living with a chronic condition can cause anxiety, depression, financial strain, and family problems. If you're feeling stuck dealing with your illness, then tune into our webinar to find helpful tips that can help you cope more effectively with it.
Care for the Caregiver: A survival guide for the Sandwich Generation.
Tuesday, March 10, 2015
Do you feel like you're being squeezed between care-giving for both your children and your parents? Are you being pulled in different directions? Are you finding yourself stressed, depressed, or angry about this situation? Then this webinar is for you! We will discuss the challenges of the "sandwich generation" and outline helpful survival tips for coping with the challenges of caregiving.
The webinar is presented by the Arthritis Foundation