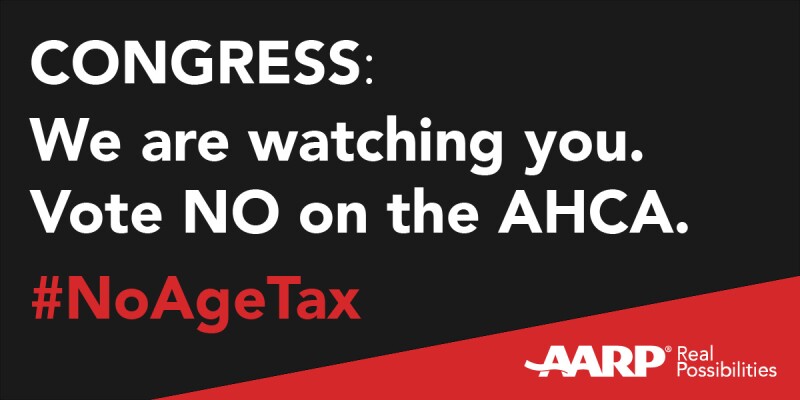 Please call your elected officials and tell them to vote NO on the AHCA.

The proposed health care legislation, known as the American Health Care Act, will hurt older adults and the disabled. Among other things, the law would:

Impose an unfair and unacceptable "age tax."
Cost taxpayers billions when the AHCA turns Medicaid into block grants and shifts the costs to states.
Force 24 million Americans to lose health coverage, according to the Congressional Budget Office.
Follow the instructions below and let your member of Congress, or Senator know where you stand.



Dial 1-844-567-7800 and follow the prompts to be connected to your legislator's office.

Once you're connected, tell the staff person that you're a constituent who is counting on your Rep. to vote NO on the American Health Care Act, which would weaken Medicare and let insurance companies overcharge older Americans by thousands of dollars a year for their coverage.

That's all you need to say, but personal stories can make a big impact! If you feel comfortable, you can also tell them how having to pay thousands more for your health care would impact your and your family's lives.

Once you've finished your call, click here and tell us how it went! After the vote, we'll follow up and tell you how your Representative voted, so you can make sure that you and your neighbors are holding them accountable.