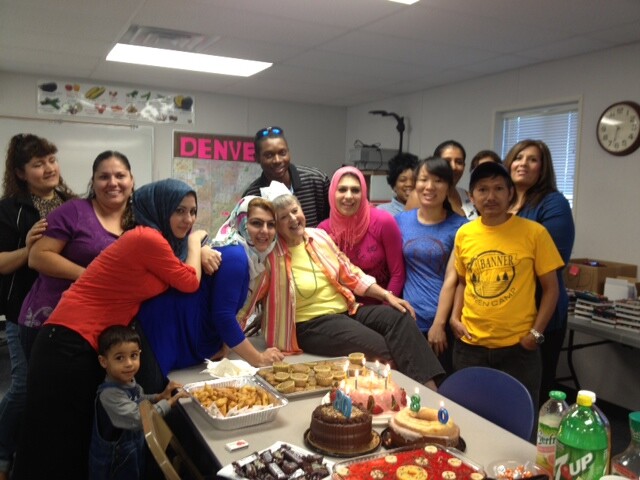 Check out this inspiring volunteer story from our friends at the Spring Institute...

Inga McKinnon has been volunteering in our Community ESL classes for 7 years. She tells us that this is the reason she "gets off the couch on Monday and Wednesday mornings". In a recent study of 55+ Americans it was discovered that 70% claimed that they feel healthier when they are volunteering in their community. Inga also tells us that she feels like the students are helping her more than she is helping them. She learns something new in every class and the students are her friends. Yesterday Inga celebrated her 80th birthday in class and told the students without doubt it was the best birthday party she had ever had."

Volunteers with Spring Institute can serve in a Community ESL classroom alongside an instructor assisting refugee students from Bhutan, Burma and Africa in conversational English, teaching them how to use public transportation, ask questions at the doctor's office, or talk to their child's teacher. In addition, volunteers can serve in the communities in which refugees and immigrants live, teaching health literacy in apartment community rooms, and engaging community members in activities related to healthy lifestyles. Volunteers often participate in walking groups with community members or help members navigate the health care system.

Interested volunteers may contact Volunteer Coordinator, Brandy Kramer at bkramer@springinstitute.org.



Spring Institute for Intercultural Learning is a nonprofit, training and consulting organization with a focus on language and culture located in Denver, CO. We work with people and organizations all over the world, enabling communication and increasing cross-cultural understanding. For over 30 years, Spring Institute has provided language training, direct services, technical assistance, training, and consulting services for individuals, communities, organizations, and corporations regionally, nationally, and internationally. Spring Institute can be found online at www.springinstitute.org, facebook.com/springinstitute, @springinstitute, pinterest.com/springinstitute.