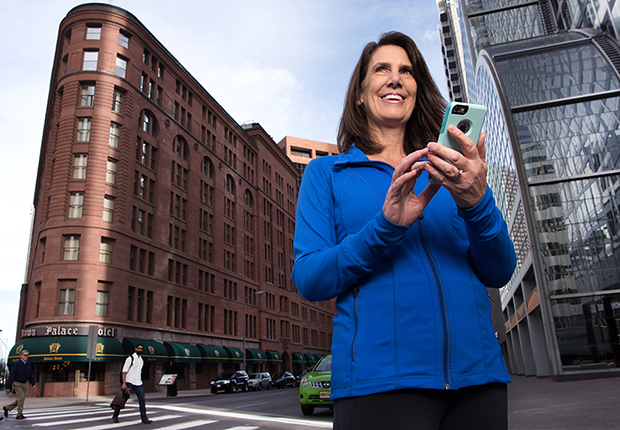 By Cynthia Pasquale

Allison Snyder has lived in the Denver area for 10 years, but she learned a lot about the place she calls home while helping to develop a walking tour app that highlights historic landmarks in the community.

AARP Colorado partnered with GeoTourist for the free app, which is intended to inspire residents and tourists to explore sites that have played a role in shaping the city as well as those important to Denver's LGBT community.

The easy-to-use app (geotourist) launched in January. It directs walkers via GPS-enabled mapping on two separate tours—one features general Denver history; the other highlights LGBT history—along roughly two-mile routes in the Capitol Hill and downtown areas. As walkers approach one of the featured sites, the app automatically shows a photo of the site and begins an audio discussion of its history.

One location on the general history tour is the Denver Art Museum. The app tells tour­goers that the museum began as the Denver Artists' Club in 1893. "The tour is a great opportunity to learn, and at many of the sites people can actually go inside and explore more," said Snyder, senior program assistant for AARP Colorado.

The tours are an extension of AARP Colorado's NeighborWalks program, in which a guide takes walkers through several neighborhoods.

"We wanted the GeoTourist tour to be more broad than the NeighborWalks tours," said Jeremiah Mora, community outreach director for AARP Colorado. "People who are visiting the area can easily learn more about Denver and our history" and do it at their own pace."

Places of proven interest
Mora and Snyder chose tour sites with input from Kevin Pharris, the owner of Denver History Tours, who also conducts AARP's NeighborWalks tours. "He knows what is of real interest to those who have gone on tours with him," Mora said.

"A lot of people don't believe that Denver has much history, or they think there's not much here except cowboys," Pharris said. He developed the audio script for the general history tour and translated a college student's research into a tour format for the LGBT tour.

Points along AARP's Denver history tour include:

Civic Center Park: Now a green space surrounded by the city's iconic civic and cultural buildings, the park once teemed with homes and businesses. It was inspired by the national City Beautiful movement.
State Capitol: While the famous step marking "one mile above sea level" is a favorite with tourists, the artwork and architecture inside tell the Colorado story.
Brown Palace Hotel: Originally called the Palace Hotel because it was built to cater to royalty, it was dubbed the White House of the West when President Dwight D. Eisenhower frequently vacationed there.
The LGBT tour includes:

Cheesman Park: Platted as a cemetery in 1859, it became a park in 1893 and the center of the LGBT community in 1974, when the first "gay-in" was held there during Gay Pride Week.
Smiley's Laundromat: Constructed in 1932, the laundromat opened in 1979 with some 350 washers and dryers and claimed to be the world's largest discount laundry, Many LGBT community members worked there when no one else would hire them.


The app can be downloaded from iTunes or Google Play for use on iPhones, iPads, Android phones and tablets. For more information, go to aarp.org/cowalk.

Cynthia Pasquale is a writer living in Denver.