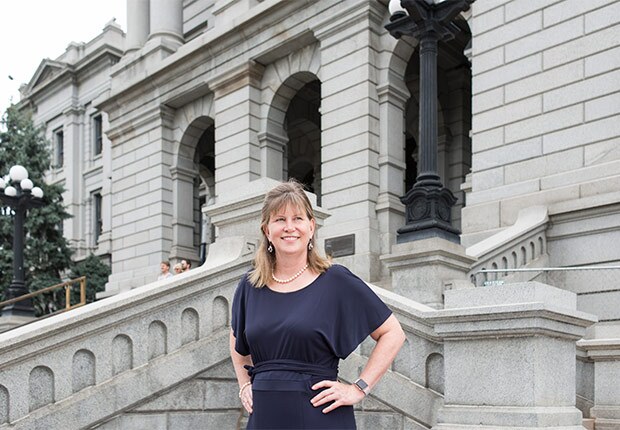 By Cynthia Pasquale
Topics of importance to Colorado residents, particularly those 50-plus, will be discussed at a series of town hall meetings hosted by AARP Colorado around the state this month.

Each meeting will feature presentations about Social Security and state fiscal flexibility, a wrap-up of AARP's efforts during the past legislative session, and an opportunity for members and the general public to discuss other concerns pertaining to the state's older population, including issues at stake in the November elections.

During each of the 90-minute meetings, Kelli Fritts, advocacy director for AARP Colorado, and several advocacy volunteers will talk about the following:

Take a Stand, a national AARP campaign that asks presidential candidates to describe their proposals for Social Security, which—if no action is taken—is projected to be able to pay only about 75 percent of benefits after 2034. AARP is pushing for reform now to ensure financial stability for the program so that future retirees will receive the benefits they have earned. For more information on candidates' positions on Social Security, go to 2016takeastand.org.

Work and save, a legislative proposal that would allow Colorado small employers to offer their employees access to workplace savings without operating a retirement plan.
"We want everyone to have the ability to retire someday," Fritts said. "A work and save program would get people thinking about retirement early, so when they retire, they will have adequate resources and won't have to rely on government programs."

A bill to create such a program, the Colorado Secure Savings Plan, was killed in a legislative committee during this year's session. Illinois, Oregon, Maryland and Connecticut are leading the way in developing similar programs. AARP Colorado will continue to advocate for a work and save program during the 2017 legislative session. "We're going to keep that conversation going," Fritts said.

Updates to the 911 system, including allowing people to use texts to contact emergency operators. The legislature this year created a task force to discuss whether the Public Utilities Commission should be able to regulate emergency calls using certain technologies.

"The legislature is studying the system in a different context, and we will be a part of those discussions, but we want the conversation to be about future 911 needs and public safety," Fritts said. Currently, cellphone 911 calls don't always register a person's location, which can delay response times.

State fiscal flexibility, including backing future initiatives that would moderate Colorado's Taxpayer's Bill of Rights. TABOR places a cap on state revenues and mandates that any amount over that cap be returned to taxpayers in the form of refunds.

"Colorado needs more fiscal flexibility to fund services and programs that our members say are important to them, including roads, education and services that allow older adults to stay independent and in their own communities," Fritts said. "Colorado has the most restrictive tax and spending limitation in the United States embedded in our constitution."

The tour dates are: Sept. 9, Fruita Community Center, 12:30 to 2 p.m.; Sept. 13, Aurora Center for Active Adults, 1 to 2:30 p.m.; Sept. 15, Fort Collins Senior Center, 1 to 2:30 p.m.; Sept. 20, Silver Key Senior Services (Colorado Springs), 1:30 to 3 p.m.; and Sept. 21, Senior Resource Development Agency,(Pueblo), 10:30 a.m. to noon.

Cynthia Pasquale is a writer living in Denver.