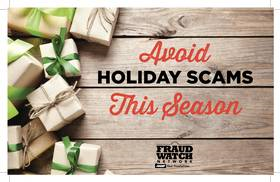 The holiday season is a busy time for everyone, including scammers! That is why it is critical we stay ahead of them to make sure consumers of all ages are aware of which scams are being perpetrated and how to avoid them. Please read and share the attached AARP Foundation ElderWatch Smart Tips on avoiding holiday scams. The Colorado Attorney General's office also offers an excellent booklet on holiday scams.

Speaking of busy… as the holidays roll around, here are a few things that might be of interest to you:

November is Colorado Consumer Protection Month! Be sure to check out the Colorado Attorney General's site for resources and activities: https://stopfraudcolorado.gov/ccpm.html.
Later this month, AARP Foundation ElderWatch and the Colorado Attorney General's office will be releasing data from a holiday scam survey of Coloradans 50+. Stay tuned! As a part of that survey we will be hosting a webinar and tele-town halls to help educate Coloradans about avoiding holiday scams.
As part of the holiday survey outreach we plan to offer presentations for community organizations and other interested parties. If you have a group of 25 or more people who are interested in a presentation on avoiding holiday scams between Nov 19 – Dec 21, please email Mark at mfetterhoff@aarp.org and we will try to accommodate your request. Presentation length is 15 – 60 min, depending on what works for your group/gathering.