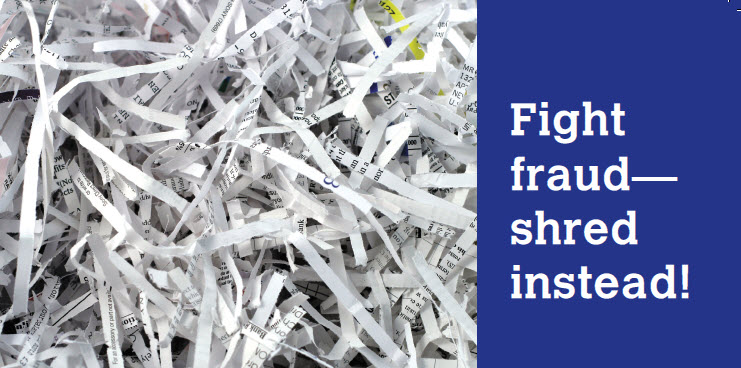 Every two seconds someone's identity is stolen. Shredding confidential documents you no longer need is one good way to protect yourself against identity theft.

Fight fraud— shred instead!
Join AARP Massachusetts and the AARP Fraud Watch Network for our regional Shred Fest on Sunday, April 24, 2016. The AARP Shred Fest is taking place in 3o states, and is offered completely free of charge.

Simply bring any confidential or sensitive documents to the Shred Fest, and we'll shred them for free. You don't even need to get out of your car—simply drive up with your documents to be shredded, hand them to an AARP volunteer or staff member who will then take them to the shredding truck, and you're done!

AARP Shred Fest
WHEN: Sunday, April 24, 2016, 1-5 p.m.

WHERE: The parking lot of the Mass General/North Shore Center for Outpatient Care, 102-104 Endicott St., Danvers, MA 01923 (opposite Market Basket/Endicott Plaza/Exit 24 off Rt. 128)

RSVP: Pre-registration is requested, but not required. Pre-register here or call 1-877-926-8300.
The AARP Massachusetts Shred Fest event is being held in collaboration with North Shore Elder Services and MGH Outpatient Clinic, Danvers.











For more information on preventing ID theft, scams, and more, visit the AARP Fraud Watch Network, and sign up for free Watchdog Alerts.