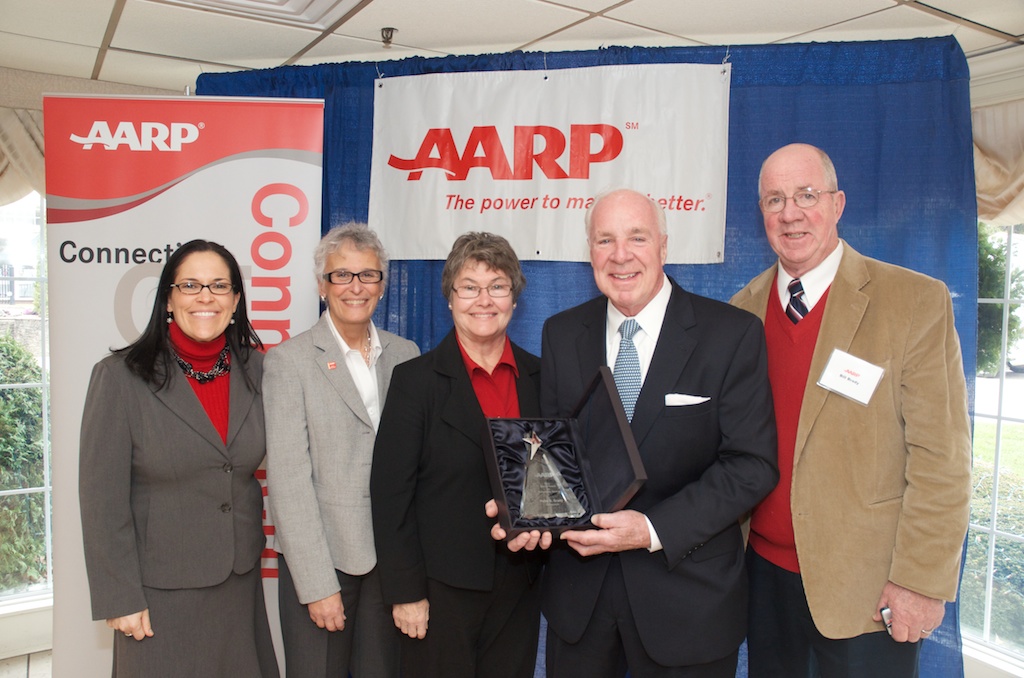 AARP's founder, Ethel Percy Andrus once said: "We learn the inner secret of happiness when we learn to direct our inner drives, our interest and our attention to something besides ourselves". Our 2012 Andrus Award for Community Service winner, Peter Brady (pictured, second from right), embodies that sentiment and has made it his mission to help improve the lives of others in his community and beyond. The prestigious Andrus Award is AARP's highest volunteer honor.

Like Dr. Andrus, Peter began the organization that has become his life's work, the Handy Dandy Handyman ministry, after retirement at the age of 58. Handy Dandy Handyman works with local contractors and businesses to provide free home improvements and maintenance services to deserving families and individuals in the greater Danbury region.

Peter and his family also started an annual "Rake and Bake" event - a community-wide effort that attracts thousands of volunteers to perform yard maintenance for elderly and disabled residents.

AARP Connecticut State President, Laura Green said, "Peter's extraordinary generosity, leadership and vision have resulted in a dedicated network of volunteers who provide support to anyone in need throughout the year. Peter inspires by example, working side-by-side with his volunteers and putting his heart and soul into everything he does."

Brady was recently honored during the annual AARP Connecticut Volunteer Recognition Luncheon. The event was attended by more than 150 people, who joined AARP Connecticut to salute those making a positive difference in the lives of Connecticut seniors and their families.

Some additional highlights and volunteer awards from the event:

Chapter of the Year: AARP Meriden Chapter #2954

For more than 36 years, the Meriden AARP Chapter 2954 has been serving the local community and its members through volunteerism, social and educational programs and just plain old-fashioned fun.

With nearly 200 members, the Chapter is very active in the community, participating in an annual food drives and donating toiletries to a local assisted living facility. They also collect books to support literacy efforts in greater New Haven and provide support to the Walk for Warmth energy assistance program.

In addition to funding an annual scholarship for a local graduating senior, Chapter members also contribute school supplies to students in Meriden schools, volunteer at local hospitals and soup kitchens, help drive seniors to appointments and volunteer at the senior center.

When they are not doing good in the community, the Chapter hosts a number of social events during the year, sponsors monthly educational programs and produces a semi-monthly newsletter to help keep members informed about issues important to older residents.

Outstanding Volunteer Leader of the Year: Kathy Null

Kathy Null began volunteering with AARP in 2011 and has since has taken on several high profile leadership responsibilities, including leading AARP's advocacy efforts in the 5th Congressional District, where she coordinates volunteer lobby days during the legislative session, meets with state legislators and Congressional representatives in her district and at the State Capitol and helps recruit and train new volunteers.

Kathy helps lead AARP's You've Earned a Say initiative in Connecticut, facilitating community listening sessions across the state on the future of Social Security and Medicare. Since March 2012, the national effort has helped make the voices of more than 10,000 Connecticut residents heard by their elected members of Congress and the candidates for President.

Kathy also helps coordinate AARP's Decide. Create. Share. initiative in Connecticut, a national effort designed to increase awareness among women about the depth and breadth of long-term care and the benefits of planning for a secure future.

Because of her exceptional leadership qualities, Null was recently chosen from among hundreds of AARP volunteers across the country to join the inaugural class of the AARP National Volunteer Leadership Institute.

Outstanding Volunteer Specialist of the Year: Helen Benjamin

Helen began volunteering with AARP in 2009 and is a dedicated member of the AARP Volunteer Advocacy Leadership Committee. Helen, a former marketing and management professional in the financial services industry, is active in the community and served as Secretary and a member of the Board of the AARP Stratford Chapter for three years.. She can regularly be found assisting at AARP events, engaging the public at health and senior fairs and meeting with state legislators and Congressional representatives in her district and at the State Capitol.

This fall, Helen helped lead AARP Connecticut's Voter Education effort, soliciting responses from a large majority of candidates for state office for inclusion in AARP's State Voters' Guide. Each year, the Voters' Guide helps inform state residents about where the candidates stand on issues important to people age 50-plus.

Helen has helped lead community listening sessions on the future of Social Security and Medicare as part of AARP's You've Earned a Say initiative and volunteers with AARP's Decide. Create. Share. to help women better plan for a secure future.

Special Recognition Award: Henry Schinnagel

Henry Schinnagel has been a volunteer with AARP for more than 16 years, even longer than there has been a State Office. Not only did his work and the work of other long-time volunteers help establish AARP's presence in Connecticut, but through his efforts, he has helped define what it means to be an AARP volunteer.

Henry was nominated for this very special award by his fellow volunteers as a way to honor him for his unwavering commitment to AARP's mission and vision, and the many activities and achievements he has led during his longstanding relationship with AARP.

Partner Program Volunteer of the Year: Vivian Kaplan

Vivian has been a member of AARP Experience Corps since 2009, tutoring students in literacy at Shepard Glen elementary school in Hamden where she spends 10-12 hours a week helping students in Kindergarten through grade 3 learn to read and write. Her commitment to her students is evident and they thrive from her support and encouragement.

Vivian also participates in numerous community events during the year, including used book fairs, where she helps children pick out just the right book for them. Her positive attitude and dedication have made her a tremendous asset to Experience Corps and a role model for others in her community.

Elected Officials Recognized for Leadership

In addition to thanking dedicated volunteers, AARP Connecticut recognized a number of state legislators for their leadership on issues of importance to older adults during the 2012 Legislative Session, including retiring State Senator Edith Prague, who was recognized with a Lifetime Public Service Award.

For pictures of the Volunteer Recognition Luncheon, visit the AARP CT Facebook page.