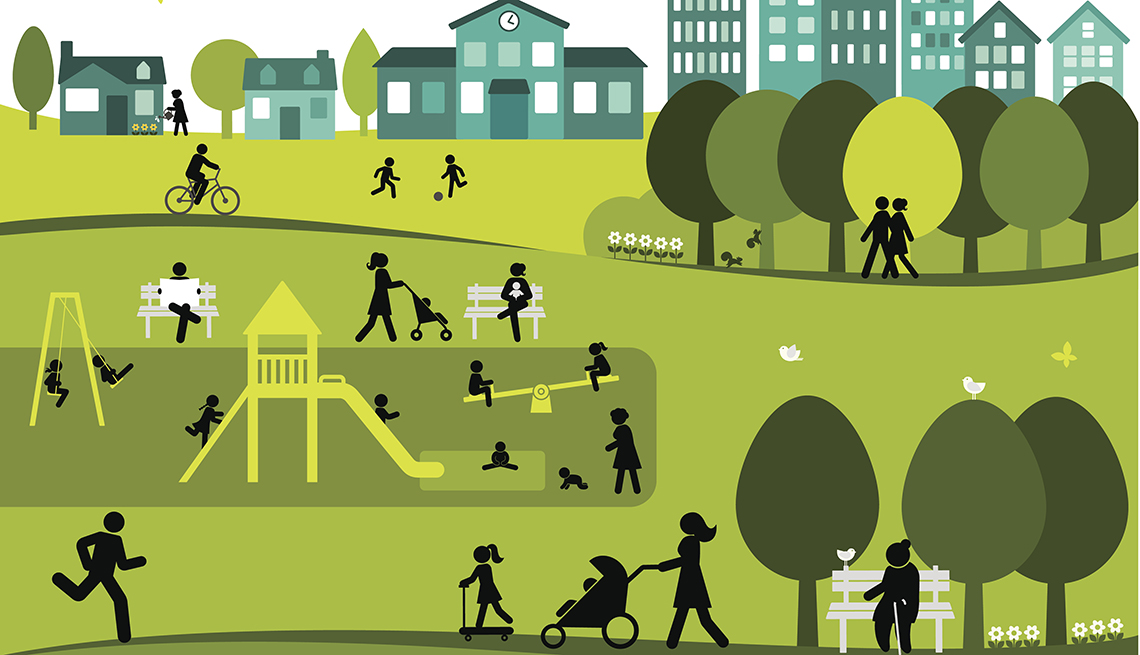 AARP CT 2023 Livable Communities Grant Application
AARP CT 2023 Livable Communities Grant Request for Proposal

AARP Connecticut invites community organizations and municipalities across the state to apply for the 2023 Livable Communities Grant Program, a local extension of the national AARP Community Challenge Grant initiative. Now in its sixth year, the grant program dedicated to funding "quick-action" projects in Connecticut communities, aims to help the state's neighborhoods, towns and cities be great places to live for people of all ages. The application deadline is Wednesday, Sept. 13, at 5pm.

"The Livable Communities Grant Program supports municipalities and nonprofits that have ideas for making small changes that will have a big impact," said Nora Duncan, State Director of AARP Connecticut. "These grants are a great opportunity for communities to be creative and think about improvements that will benefit people of all ages."

The AARP Connecticut Livable Communities Grant Program is open to incorporated organizations that are 501(c)(3) or 501(c)(4) nonprofits and Connecticut municipalities who seek to make improvements in their neighborhood or community in Connecticut.

Grants can range from small, short-term activities to larger, permanent solutions, but the maximum amount of any single grant will be $5,000. All applications should be for a project of $5,000 or less. Grant funds cannot be used to supplement staff salaries or contribute to ongoing operating expenses. AARP Connecticut has funded 29 projects since the Livable Communities Grant Program was created (seven in 2022, six in 2021, five in 2020, seven in 2019 and four in 2018).

Grant applications should be for projects in Connecticut that are focused on improving the lives of those 50+ and make a positive impact within one of the following 8 Domains of Livability:

> Outdoor spaces and buildings
> Transportation
> Housing
> Social Participation
> Respect and Social Inclusion
> Work and Civic Engagement
> Communication and Information
> Community and Health Services

Comprehensive details about the program and applications can be found on www.aarp.org/ct. All proposals must be submitted to CTLivable@aarp.org by 5 p.m. ET, September 13, 2023, and all projects must be completed within 12 months from the day grant funding is received. Each section of the application must be completed with all pertinent information. Please email questions to CTLivable@aarp.org.

If you are interested in learning more about the grant or have specific questions, our "Livable Communities Grant Office Hour" online event (recorded on August 29) is an opportunity for potential grantees to learn more about the grant program and application.

While AARP Connecticut's Livable Communities Grant Program is only open to Connecticut towns and nonprofits, AARP's nationwide Livable Communities initiative funds projects in all 50 states, Washington DC, Puerto Rico, and the US Virgin Islands. AARP announced in June that it will fund 310 projects across the country in 2023, including five in Connecticut, as part of its seventh annual AARP Community Challenge grant program. More than one thousand projects have been funded since grant program began in 2017.

AARP's nationwide Livable Communities initiative also provides resources and publications to encourage local action such as the Roadmap to Livability and the AARP book-series Where We Live: Communities for All Ages. To learn more about AARP's livable communities work in communities across the country please visit www.aarp.org/livable.