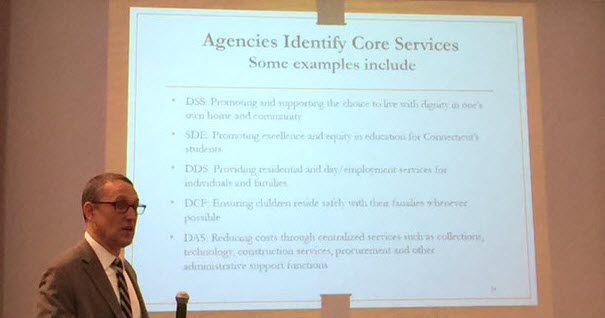 AARP Connecticut is encouraged that Gov. Malloy identifies these as 'Core Services'

HARTFORD —AARP Connecticut, on behalf of more than 600,000 Connecticut members age 50+, is encouraged that today's announcement by the Malloy Administration identified "... Promoting and supporting [an individual's] choice to live with dignity in one's own home and community" as a critical core service in the state.


---

UPDATE: AARP is calling on state leaders to help family caregivers by enacting Senate Bill # 221, An Act Concerning Paid Family and Medical Leave. This bill would ensure that family caregivers are not asked to choose between keeping their jobs or caring for their loved ones.


---
Links to Gov. Malloy's Fiscal 2017 Budget documents below
New data released this week supports home care and family respite as prudent economic investments. The report by Health Management Associates shows that delivering home care and family caregiver respite is three times more cost-effective than taxpayer funded, institutional care, and that 88 percent of seniors prefer to age in their own community as long as they are able. The report, hma-fact-sheet-on-hcbs-in-ct-final.pdf, also reveals that an estimated 459,000 unpaid family caregivers support loved ones in Connecticut, providing 427 million hours of care with an economic value to the state of $5.93 billion.

AARP Connecticut urges the Governor and state legislators to support independent living options for seniors, including full funding of the Connecticut Home Care Program for Elders (CHCPE) and Alzheimer's respite care offered under the  Statewide Respite Care Program. These programs ensure seniors and family caregivers have access to the best resources in the community, including home care and adult day care.

  AARP will work with the Governor and legislators in both parties to spark new solutions, so that more people may choose how they live and age." - AARP Connecticut State Director Nora Duncan

The Connecticut state budget must:

Pursue strategic initiatives that increase the number of older people who receive home- and community-based services by streamlining eligibility, expanding Connecticut's long-term services infrastructure, and securing additional federal reimbursements for home-care services.


Connecticut Fiscal 2017 Midterm Budget Adjustments

Gov. Malloy Budget Fact Sheet: "Changing the Way We Budget"

Gov. Malloy's Fiscal 2017 Midterm Budget Adjustments

Governor Dannel P. Malloy 2016 State of the State Address