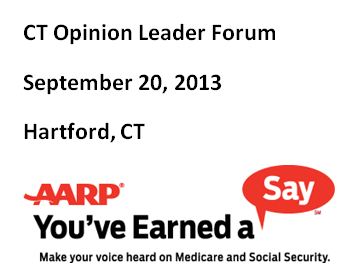 Right now there's an important debate going on about the future of Medicare and Social Security. While some politicians in Washington are pushing for harmful cuts, AARP is fighting for responsible solutions that keep the promises we've made to current seniors and keep the programs strong for our kids and grandkids. You can learn more and make your voice heard at an Opinion Leader Forum, hosted by AARP Connecticut, the Hartford Courant and FoxCT on Friday, September 20, 2013 from 9:30 a.m. to 1:00 p.m. at the Society Room of Hartford, 31 Pratt Street in Hartford. WATCH VIDEO OF THE FORUM.

The Forum features a balanced panel of Connecticut policy experts and former elected officials who will share their views about the funding challenges facing Social Security and Medicare and how proposed changes being debated in Washington could impact Connecticut residents and their families.

Laurie Perez and Al Terzi, FoxCT hosts of the popular Sunday public affairs program, The Real Story, will moderate the panel and take questions from the audience. Seating is limited and advance registration is required. The event is free and includes continental breakfast and lunch following the Forum. Register online or call 877-926-8300.

Confirmed panelists include:
• Jim Maloney, former Congressman
• Rob Simmons, former Congressman
• Fergus Cullen, Executive Director, The Yankee Institute
• J.R. Romano, Connecticut State Director, Americans for Prosperity
• Ellen Shemitz, Executive Director, Connecticut Voices for Children
• Judith Stein, Executive Director, Center for Medicare Advocacy

The Forum is part of a national effort launched by AARP in 2012 called You've Earned a Say which has engaged over 10 million Americans, including more than 10,000 in Connecticut, to share their opinions about Medicare and Social Security and give them a voice in the discussion about their future.

Audience members will have an opportunity to learn more about specific proposals being discussed in Washington and submit questions for the panel.

To learn more about You've Earned a Say, visit www.earnedasay.org.