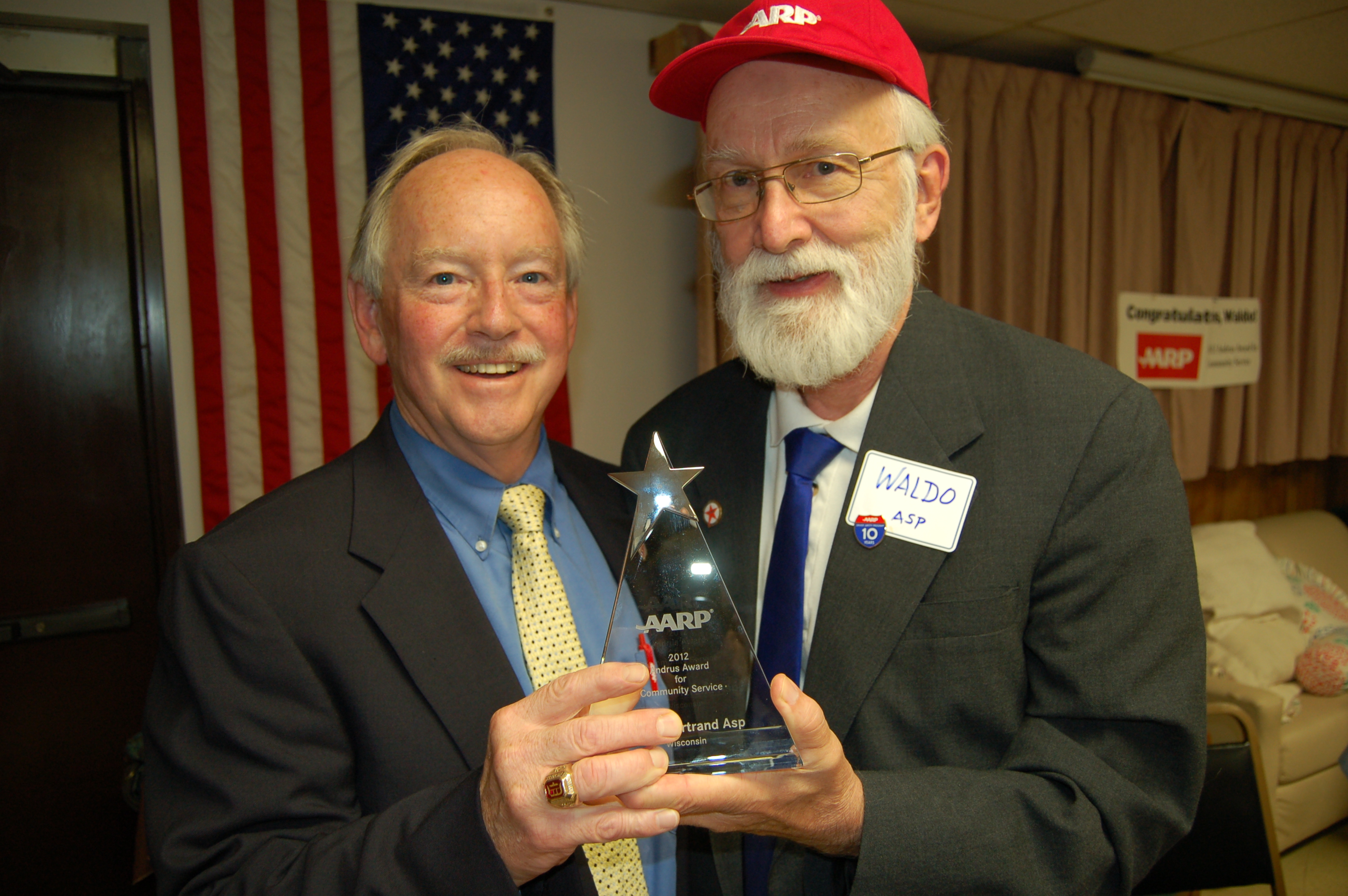 Edgewater resident Waldo Asp was awarded with AARP Wisconsin's highest honor – the "2012 Andrus Award for Community Service" – at a ceremony in Hayward this fall. The award is AARP's most prestigious volunteer award for community service.

"This award symbolizes that individuals like Waldo have the power and ability to make a difference in the lives of others," said Mariann Muzzi, who coordinates the Andrus Award program for the AARP Wisconsin office in Madison. "You can see by the long list of Waldo's community involvement and accomplishments that he is a true pillar of Sawyer County."

Asp, 78, has served as President of the Hayward Area AARP Chapter for the past four years, and has served the past 12 years as Northwest Wisconsin's Coordinator for the AARP Driver Safety Program.

In addition, he contributes much of his time and energy serving as a leader for several organizations that are dedicated to water and environmental quality. He also serves or has served in various capacities on dozens of municipal, county, state, school and church boards throughout his lifetime.

"It is really nice to get state recognition for all the great work that's going on up here in Sawyer County," Asp said. "This is definitely a nice honor."

According to Archie and Betty Hutchinson of Hayward, who nominated him for the award, Waldo "is the embodiment of the AARP mission."

"He makes all effort to promote a society where we age with dignity and purpose, and in which AARP helps people fulfill their goals and dreams," the Hutchinsons said. "Through his leadership, our Chapter shares his dedication to enhancing the quality of life as we age."

Asp maintains a lifelong commitment to positive social change. At each AARP Chapter meeting he provides legislative updates and encourages interaction among members and guests. He also leads presentations on topics such as maintaining good health.

"Waldo is a person who encourages others to participate and volunteer," the Hutchinsons said, through projects such as food shelf collections, cleaning and repairing the senior center, fundraising for charities, and leading Hayward's Alzheimer's Walk.

Asp has worn many hats over the years, retiring as an educator, small business owner and pastor. He taught philosophy at Normandale College in Bloomington, MN, and owned ASP Painting and Construction for 40 years. He holds degrees from Northwestern University, Mankato State, and the Garrett Theological Seminary.

He married his wife, Irene, in 1980. He has two married daughters, two sons-in-law, two step-children, and five grandchildren. He and Irene are active members of Blue Hills Unitarian Universalist Fellowship in Rice Lake.

Recipients of the Andrus Award (named after AARP founder Ethel Percy Andrus) are chosen for their ability to enhance the lives of AARP members, improve the community in which the work was performed, and inspire others to volunteer.

Asp received his award at a ceremony among his peers at the Senior Resource Center in Hayward.