More than 500,000 Nevada family caregivers and their loved ones will get some much needed help, as the bill known as the CARE Act (SB177) was passed and signed into law during the 78th (2015) session of the Nevada Legislature. The new law strengthens communication between hospitals and family caregivers, ensuring a designated caregiver is notified when a loved one is discharged or transferred, and receives instruction on any after-care required at home – such as managing prescriptions or dressing wounds.

The bill, which passed both houses of the legislature by unanimous vote, is designed to help family caregivers be better prepared to take care of loved ones at home – strengthening the ability of parents, spouses and other loved ones to continue to live independently, and dramatically reducing the likelihood of costly hospital readmissions. The bill was signed into law by Governor Brian Sandoval on May 6, 2015.

A recent AARP survey of 800 Nevada registered voters age 45 and older shows that most have either had experience as family caregivers (53 percent), or believe they are likely to be caregivers in the future (51 percent), and they are strongly in favor of measures to help improve supports for family caregivers. In addition to assisting with daily living tasks like transportation, errands and bills, more than 70 percent of Nevada caregivers also perform complex medical tasks – often with little or no training. Nevada's unpaid family caregivers provide more than 348 million hours of care, valued at about $4 billion annually.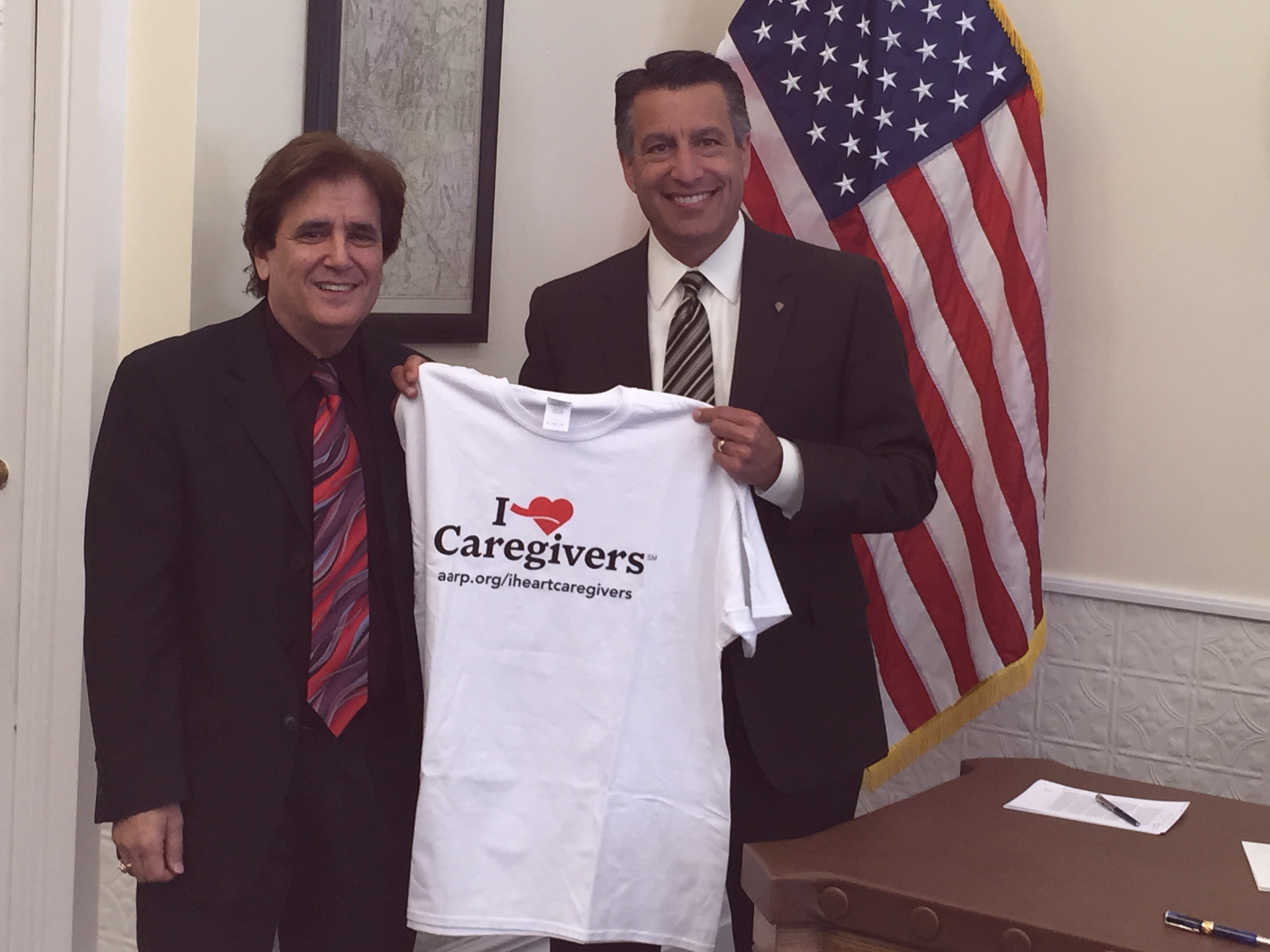 The CARE Act came to the legislature with the support of more than 50 organizations across Nevada - from business and civic groups and faith-based organizations, to health professionals and disease-specific advocacy groups. The new law will take effect on January 1, 2016.

"The widespread, bi-partisan support for the CARE Act underscores the universal impact family caregivers have on the health and well-being of all Nevadans," said Hilarie Grey, interim state director of AARP Nevada. "We thank Governor Sandoval, Senate Health and Human Services Committee Chair Joe Hardy, the Nevada Hospital Association and all the members of the Nevada Legislature for recognizing and supporting family caregivers and their loved ones."

Photos - above: Nevada Governor Brian Sandoval signs the CARE Act into law at his Carson City office on May 6, 2015, with (l to r) Nevada Senator Joe Hardy, Chair of the Senate Committee on Health and Human Services; AARP Nevada Government Relations Director Barry Gold, Art Gafke of Nevadans for the Common Good; and Rachel Blinn, social work student and CARE act supporter who shared her story with the Nevada Legislature. Below: AARP Nevada's Barry Gold and Governor Sandoval.



More about the CARE Act:

Bill would require hospitals to prepare, instruct those assisting patients (Las Vegas Review Journal, March 2, 2015)

Nevada CARE Act would help family caregivers (KTVN, April 27, 2015)