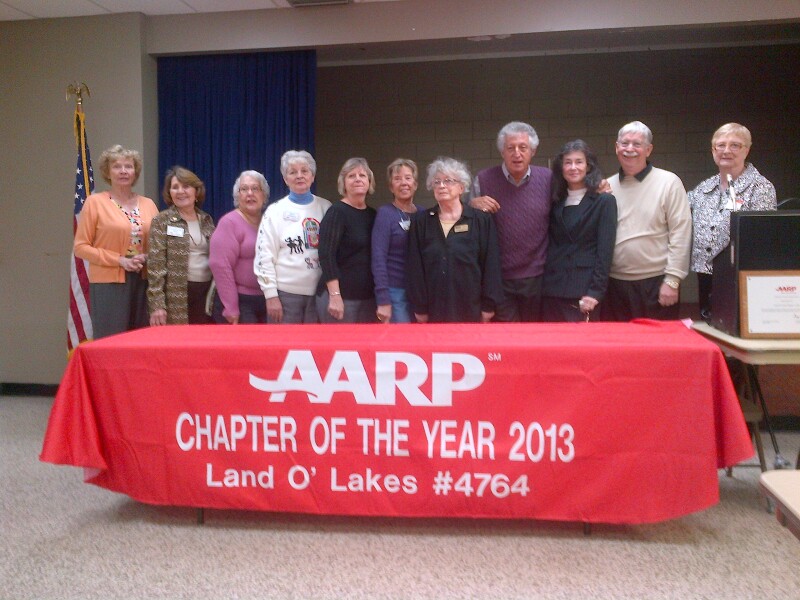 AARP Florida Names Land O' Lakes Chapter to Top Honor
Land O' Lakes, Fla - A Land O' Lakes' AARP chapter, Chapter No. 4764, has been chosen as Florida's AARP Chapter of the Year, AARP Florida announced today.

"AARP is grateful for the work of the Land O'Lakes Chapter and all Florida AARP chapters," said AARP's Florida state director, Jeff Johnson. " They are great legacies of our founder, Dr. Ethel Percy Andrus, and her motto 'To serve and not be served'. AARP chapters provide a sense of fellowship to their members while contributing immeasurably to the good of their community. Congratulations to the members of the Land O' Lakes chapter for a great year."

Lois Herron, former AARP State President and Bill Clark, AARP Associate State Director, will make the presentation to Chapter President Phyllis E. Bross, Esq., and the more than 50 members at the Land O' Lakes Community Center at 5401 Land O' Lakes Blvd., Land O' Lakes, Fla. at 11:30 a.m. Jan. 24.

The chapter has been in existence for more than 20 years and still has some of the original members. as well as younger members. This diverse group works well together to honor and support AARP's state and national goals as well as involvement in local charity groups and community project such as visiting veterans at the Lopez Nursing Home and collecting non-perishable foods, which are donated to Christian Social Services, Johnson noted. The members also run an annual drive to feed local families special holiday dinners and also facilitate Alzheimer's Caregivers Group meetings and seminars.

Chapter members take part in at least 30 community service projects and support AARP's advocacy and legislative projects throughout the year. To further their efforts on health and wellness issues affecting seniors, the chapter invites guest speakers to address many subjects including senior fraud, which is one of AARP's top priorities across the nation.